Scared Dog Can't Look At People Unless His Crate Is Covered Like A Cave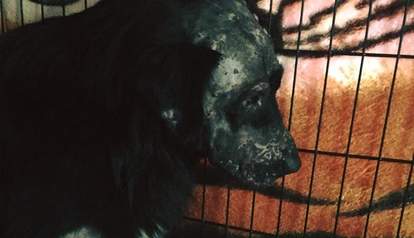 The dog's name was 3-Foot for a reason: For six weeks, he had been roaming around Dallas with a bear claw trap on his foot.
Eventually, says Marina Tarashevska, the founder of rescue group Dallas DogRRR, the trap fell off - with the animal's paw.
3-FootDallas Dogrrr
3-Foot

| Dallas Dogrrr
"I can't imagine the pain he was in for so long," says Tarashevska. Neighbors said they saw him with the trap on his foot for at least two months, and for weeks had been calling Dallas Animal Services, but had no response.
3-Foot in cageDallas Dogrrr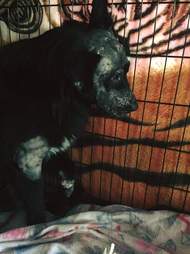 3-Foot in cage

| Dallas Dogrrr
Tarashevska - who works tirelessly to rescue the hundreds of dogs in Dallas who are routinely dumped or left for dead on the side of the road in the city - says she spent months trying to catch 3-Foot.
"He must have been on the streets for a long time," she says. "He was so scared of people."
Usually with food, she adds, she can cajole dogs to come near to her. But 3-Foot always took off.
Where 3-Foot lived with the other stray dogsDallas Dogrrr
Where 3-Foot lived with the other stray dogs

| Dallas Dogrrr
Two days ago, however, she finally caught 3-Foot. He's currently in a cage in her home covered with blankets: "He's just terrified. He is very, very shut down and broken. But it isn't unusual for the dogs we rescue, and I'm sure he's going to come around."
On her Facebook post today, Tarashevska wrote: "3 foot is still as shut down as could be and won't even make eye contact unless his crate is covered up like a cave. He finished all of his dinner last night and drank a lot so at least he's not on a hunger strike. He still flinches when I get close but he let me pet him today and didn't even try to bite me so that's super awesome- puppy steps."
"We all just need to be patient and, in time, he will trust people again," she told The Dodo.
3-FootDallas Dogrrr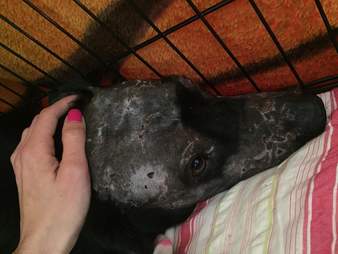 3-Foot

| Dallas Dogrrr
Tarashevska says the 2-year-old puppy, whom she now calls Wooly, is likely part long-haired black retriever. "It's hard to tell because he is so beat up," she says. "I think he was really picked on by other dogs. There isn't one area of his face that doesn't have an old or new scar."
WoolyDallas Dogrrr
Wooly

| Dallas Dogrrr
After she nurtures Wooly back to health and comfort, she says that Second Chance Rescue in New York has already found Wooly a foster home.
But the work is never done, says Tarashevska. Operating on such a shoestring budget that she doesn't even use any donations for gas money, she also rescued a dog named Jade just 10 days ago.
JadeMarina Tarashevska Facebook
Jade

| Marina Tarashevska Facebook
And according to Tarashevska's Facebook page, Jade is improving tremendously:
JadeMarina Tarashevska Facebook
Jade

| Marina Tarashevska Facebook
Tarashevska says that she has no choice but to keep helping the hundreds of dogs living on the margins in the city of Dallas. "It's exhausting," she says, "but I can't just do nothing. Otherwise, they will die."
To help Dallas DogRRR, visit its website here. The site's Facebook page is here.