Dog Living Under Car For 7 Months Instantly Knows When He's Safe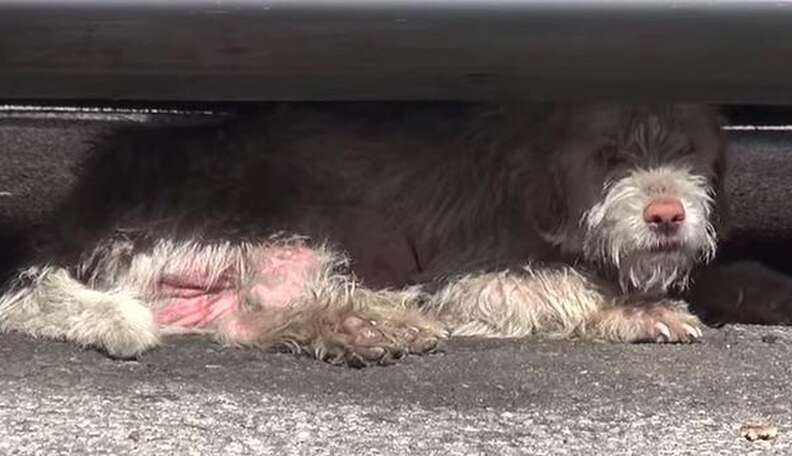 <p><a href="https://www.youtube.com/watch?v=QaNMmtticWE" target="_blank">YouTube/Hope For Paws</a></p>
A homeless dog wandered the streets, living under cars, hoping not to be noticed - until someone did notice and decided he needed to be saved.
Hope For Paws, a rescue organization based in Los Angeles, got a call about a homeless dog living in a parking lot for around seven months. The organization knew they had to save this pup from such a lonely life, so they searched until they found him, hiding under a parked car.
The pup was extremely reluctant to come out, only partially emerging when he was bribed with food.
When rescuers tried to get closer, the dog was instantly scared and began to retreat back under the cars - the only life he'd ever know.
When rescuers were able to get a leash around the dog, he panicked. He clearly didn't trust humans, probably due to whatever horrors he had suffered in his past.
But as soon as the pup was pet, spoken to and shown love, he immediately calmed down. He seemed to know he was finally safe.
Hope For Paws named the dog Aaron. He was infested with fleas and ticks, but as soon as he was cleaned up, Aaron became a loving, cheerful dog who was finally ready to find a forever home of his own.
It's wonderful to know that Aaron will never again have to go back to living in that parking lot, and will now be put up for adoption and placed with a wonderful forever family. Congrats, Aaron!
Check out the full video of Aaron's journey below:
Enter your email to receive a free Dognition Assessment, exclusively for Dodo readers:
Enter your email to receive a free Dognition Assessment, exclusively for Dodo readers: