13-Year-Old Dog Waits For Months In Yard After His Owner Passes Away
If Ricky Bobby wasn't fat, he would probably be dead.
At least, that's what the people who rescued him figured when they first saw the 108-pound Australian cattle dog. Although his owner had taken good care of him, Ricky Bobby was found alone at a battered, boarded-up California property.
His owner had died suddenly. For several months afterward, no one thought to take the dog out of the yard - the only yard he had ever known.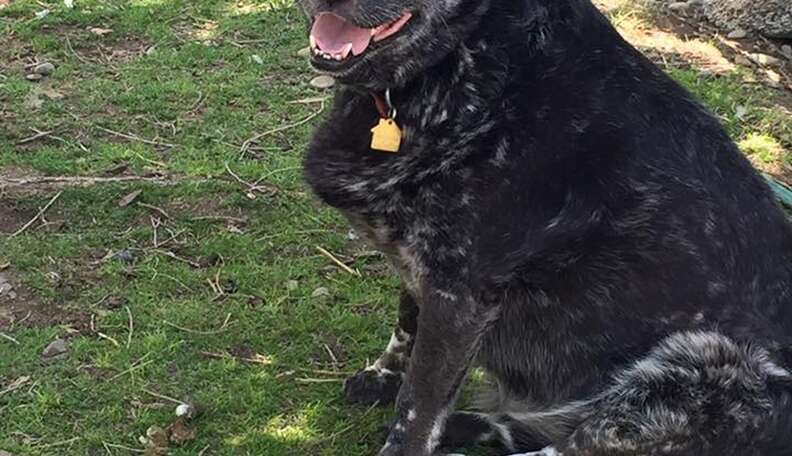 But someone was feeding him. According to Marley's Mutts, the group that eventually rescued him, neighbors were keeping him alive with a steady diet of hamburgers and spam.
It turns out a diet of despair is rich in calories. A healthy Ricky Bobby should weigh about half of what he does now.
"Ricky Bobby is one of the most unnaturally titanic organisms we've ever rescued," the group noted in a Facebook post.
He was finally let out of that yard earlier this month. Now, his rescuers hope the pounds will follow. Ricky Bobby's current goal is to shed 25 pounds through diet and exercise. And despite what the 13-year-old dog has gone through, he is embracing change.
"He is unique because he is open to change and not set in his ways," Marley's Mutts founder Zach Skow tells The Dodo. "For over a decade he has been living in a bad frequency, guarding his property with his life. Not letting anyone in.
"He wouldn't let us in, but after time, some love and the knowledge we weren't going to hurt him, he decided to go with us. He made a big leap of faith and continues to improve."
Despite his unearthly girth, Ricky Bobby is in exceptional health. No thyroid issues. His heart is healthy and strong.
And clearly in the right place. Ricky Bobby likes nothing more than going for walks. The longer the better.
You got this Ricky Bobby.
Think you can help him on that extra mile and give him a real home?