Hundreds Of People Walked By Mother Dog Abandoned In Train Station
After an hour, the perfect person finally stopped.
For a dog who was confined for most of her life, being tied to a New York City subway platform during rush hour must have been nothing short of terrifying.
Hundreds of people walked briskly to catch trains at Brooklyn's Atlantic Terminal, not bothering to stop for the dog tied to a railing. She was still wearing her prong collar. And there was a garbage bag spread out, someone's idea of a bed.
"It was determined that she had been there for at least an hour and nobody had called the cops or animal control," Marisa Grimshaw of Mr. Bones & Co. animal rescue tells The Dodo. "So we can only imagine how many people walked past her - and I'm sure didn't think it was normal but also didn't feel compelled to stop and help her."
But someone did see through that swarm of commuters. And found a heart in desperate need.
Although she was on her way from work, when Sarah Borok saw the dog, she refused to leave her side.
Borok called the police, who arrived quickly and called animal control.
The dog was taken to a public animal shelter in Brooklyn. Staff there gave her a name: Betsey.
"Betsey was shy and timid," Grimshaw notes. "But staff at the shelter had no concerns about her behavior. She wagged her tail. Let other dogs sniff her."
And she didn't forget the first friend she made in New York City.
"Betsey was excited to see her again the next day at the shelter and definitely remembered her," Grimshaw says, of Borok's visit to the shelter.
And this dog needed all the friends she could get. Grimshaw calls her a "throwaway mama" - a dog used for breeding relentlessly before being discarded.
"We have no idea where those puppies are," Grimshaw notes. "But we have no doubt that's what she was being used for and those puppies are probably being sold."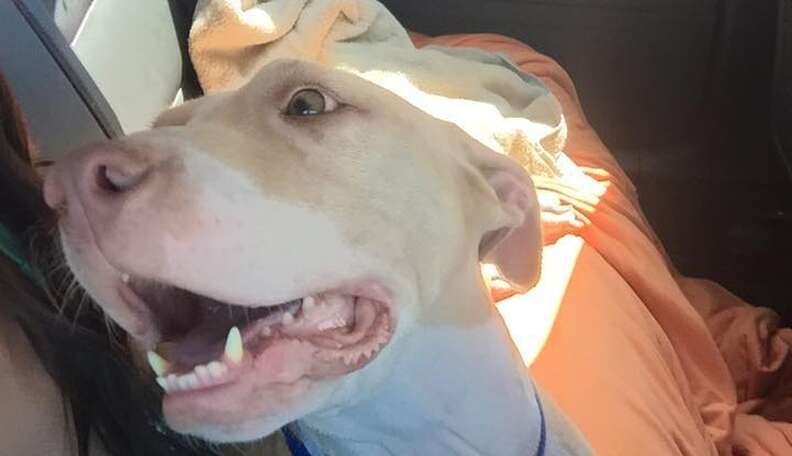 At just 2 years old, Betsey appears to have had several litters. And her former owner rewarded her with a one-way ticket to a crowded subway stop.
"She has pressure sores on all of her joints," Grimshaw explains. "Her feet are stained as if she had just been living in dirt or filth. Her nails are so overgrown, it makes it uncomfortable for her to walk on pavement."
And there are mysterious stains on her coat "that we can't really tell if it's dirt or tar, but it's embedded in her fur, like it's been there for ages."
Despite being in the middle of a flurry of rescues, Mr. Bones - like Borok - didn't hesitate to help Betsey. The group hauled her from the shelter and found an emergency foster home for her.
But it was Borok who wanted to spend that first night with Betsey before she went into foster care.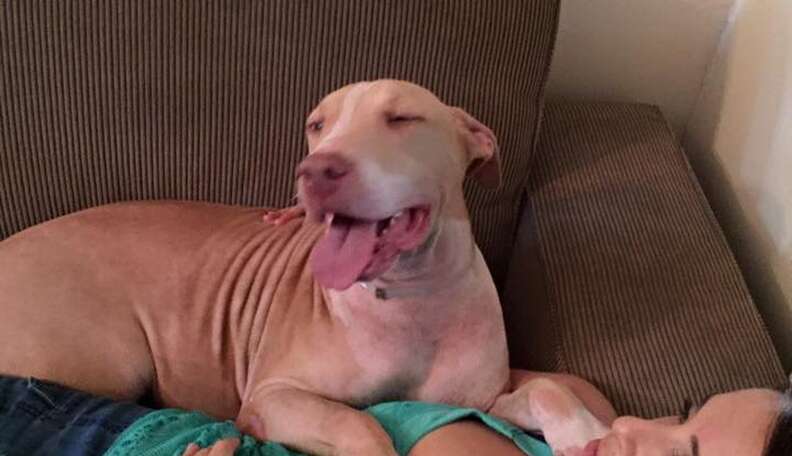 The next day, Betsey moved to a temporary home. But she's still looking for a friend who will be with her for the rest of her life: a forever friend.
That friend will have to understand that Betsey is new to being a dog - someone, Grimshaw says, who understands "she's had very few experiences in life and is willing to go slow with her."
At this point, Betsey doesn't really know how to walk on a leash. She's even confused by toys and treats - "She really wasn't sure what any of those are," Grimshaw says.
But she's already learned the most important thing in the world: the value of a friend.
"She's extremely sweet," Grimshaw says. "She allows everyone she meets to pet her and she's always eagerly seeking out pets from everyone. She lights up when she sees other dogs and she wags her tail."