YES: The Basement Dog Has Been Saved!
This one goes out to anyone who has loved a dog he's never met.
That dog is named Max, who got dozens of adoption requests after The Dodo featured his story on Monday. He was abandoned by his owner and left to fend for himself in the basement of a New York City apartment building.
Tamir Shmerling, a tenant in the building, pitied the 90-pound American bulldog mix and brought him food and water. Whenever he could, Shmerling took a grateful Max on expeditions to the surface for some much-needed sunlight.
And he was transformed.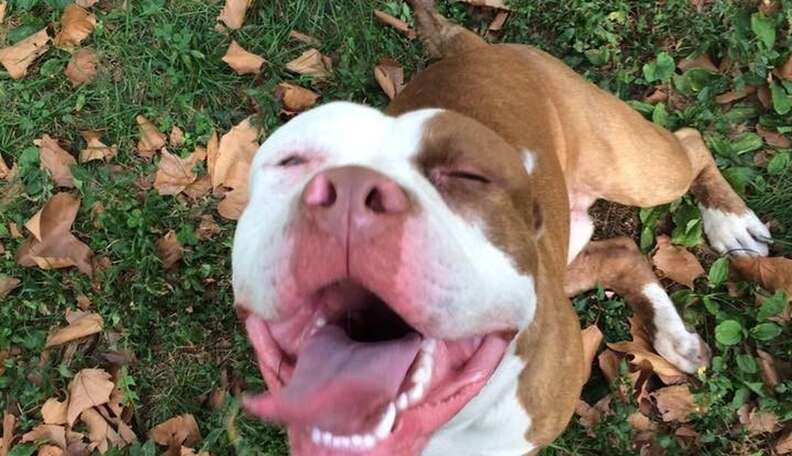 But he always had to return to his subterranean home.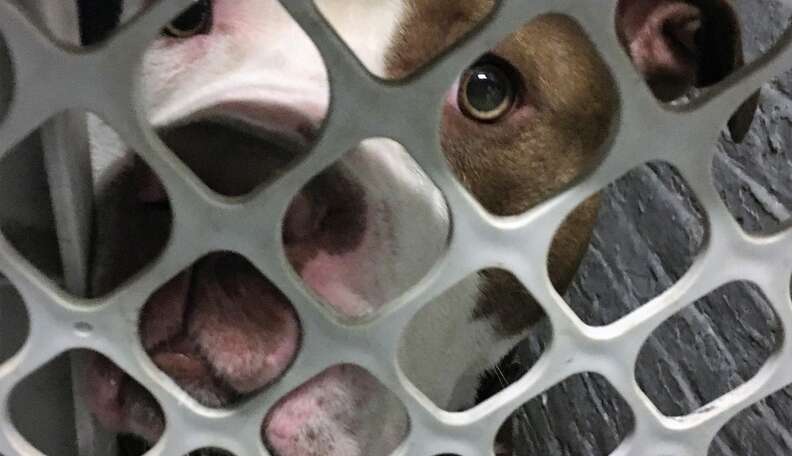 Readers shared the story of the basement orphan thousands of times on social media. Several rescues offered to care for him.
And, just one day after the story was published, he found his eternal sunshine.
Elli Frank of Mr. Bones & Co. and Rescue the Runway met Max on Tuesday. And with just a few fateful words, Max's basement days were behind him.
"We'll take him," she told Shmerling. "He's ours."
(You can watch a video of Max meeting his rescuer here.)
"Our program focuses on dogs facing extraordinary challenges," Frank told The Dodo after picking up Max. "And two things that really nailed me was that he reminded me of my guy."
That would be Mr. Bones, the dog with the "enormous lemon-shaped open-mouth smile" who inspired Frank's organization back in 2012.
Frank took Mr. Bones home from a Brooklyn animal shelter just hours before he was scheduled to be euthanized. He was, as Frank writes on the group's website, "severely malnourished, covered in scars, old puncture wounds and what appeared to be a cigarette burn or two."
Today, Mr. Bones is covered only in kisses. He's been the guiding light behind the rescue since the day he arrived.
The other reason why Max struck a chord with Frank?
"A couple of months ago we had a dog in a similar situation who was literally locked in a basement in his own waste for his entire life," she said. "He's just an amazing dog and so resilient and now in a home in New Jersey with children."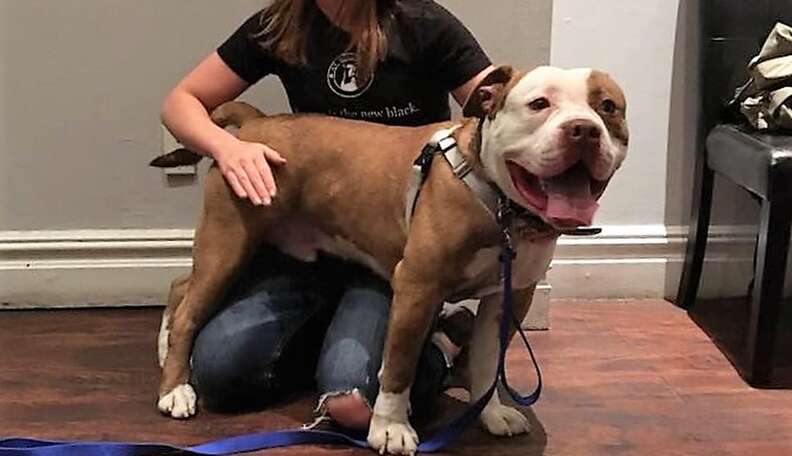 For Frank, Max is another dog from another basement whom she expects to blossom in the light.
"He gravitates toward people and wants to give you everything a pit bull is known for - loyalty and love," she explained. "That American bulldog in him makes him a little more oaf-y and like a gentle giant. I literally love him."
He was also a perfect gentleman around other dogs at the clinic, keen to make everyone's acquaintance.
Max will be given a much-needed bath today. He will also be neutered.
Chin up, Max. Sunny days ahead.