Guide Dog Jumps In Front Of Bus To Protect His Blind Owner
<p><a href="https://www.facebook.com/BrewsterFireDepartment" target="_blank">Facebook/Brewster Fire Department</a></p>
A guide dog named Figo is being hailed as a hero, and for good reason.
While out for a walk with his blind human companion in Brewster, New York, on Monday, the courageous golden retriever sacrificed his own safety in an attempt to shield his person from harm. Witnesses say the dog and owner were crossing a roadway when the driver of an oncoming school bus failed to notice them in time.
That's when Figo leapt in front of the vehicle, potentially saving the life of owner Audrey Stone.
"I don't know if [the bus driver] thought [Stone] was going to move faster, but it looks like the dog tried to take most of the hit for her," witness Paul Schwartz told the Journal News.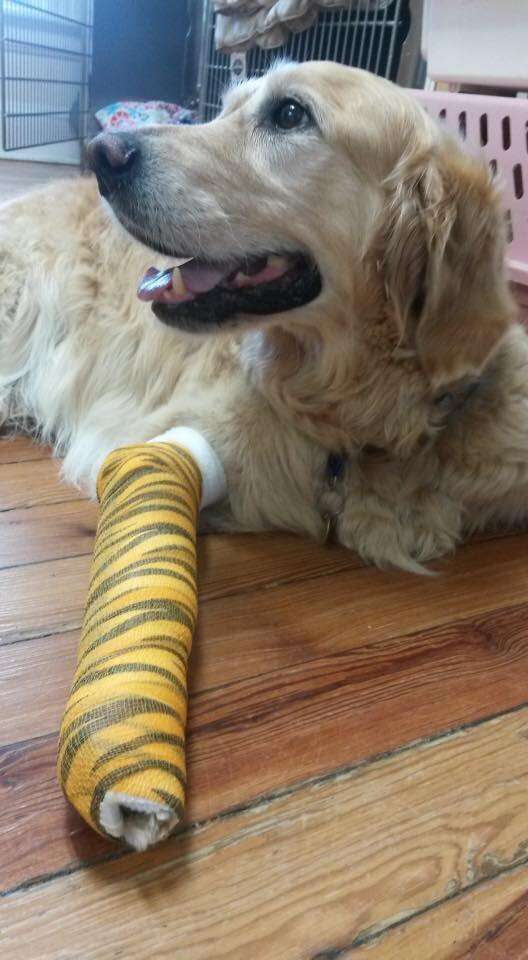 Although Stone was injured in the collision - she sustained a broken ankle and elbow as well as three fractured ribs - she didn't lose her life, likely thanks to her dog's heroic efforts. Figo was injured too, suffering a bone-deep gash in one of his front limbs, but he stayed with Stone even after paramedics arrived.
"There were 15 EMTs and people all around her and the dog didn't want to leave her side," Schwartz told the newspaper. "He was flopping over to her and she didn't want him to get away from her, either."
Stone is still undergoing treatment for her injuries, as is the service dog who risked his life on her behalf. Figo's caregivers at Middlebranch Veterinary say they will keep the furry hero safe and sound until the pair can be reunited. But even now the ending of this harrowing tale is poised to be a happy one, as the vet clinic reports:
"Figo is resting comfortably and recovering nicely from his wounds."