Dog Who Was Born In A Shelter Can't Stop Kissing His New Baby
When a family in Iowa welcomed a baby girl into their home recently, a dog named Blake was among the first to greet her.
They bonded instantly.
Maybe that's because Blake got his start in the world surrounded by babies. Lots and lots of babies.
His mother, Gem, was dumped, pregnant, with an Iowa animal control unit back in 2012.
She started giving birth to puppies almost right away.
One ... two ... three ...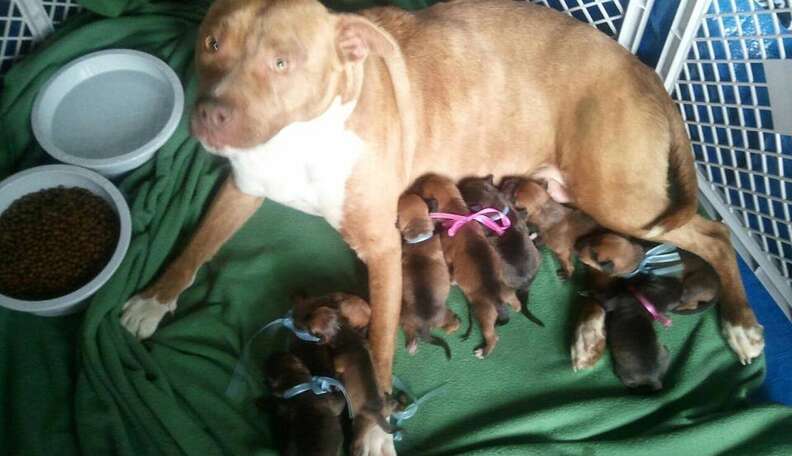 Thankfully, Amy Haas-Gray, founder of Hardin Eldora Animal Rescue Team (HEART), was standing by to save Gem from the shelter.
But not before Gem gave birth to ... five ... six ...
... 11 puppies.
After an incredible effort, the group found a home for every last one of these babies, as well as their mother.
But somewhere among those puppies was a boy who would be called Blake.
That year, a family in Marshalltown, Iowa, gave him a real home.
And, like all 11 of his brothers and sisters, he found his way to a good place.
"He has changed my life, literally," Janet Cox Hala, the woman who adopted him, tells The Dodo. "I never had owned a dog as an adult and he is my joy."
Maybe it has something to do with Blake's earliest beginnings - how he came into this world amid the most unexpected pile of puppies.
Because when Hala's family welcomed another baby into their home - a granddaughter named Nora - Blake was right there to cover her in kisses and hugs.
It was as if Blake were saying, Welcome Nora. You're really going to like it here.