The Way This Dog Jumps With A Baby Is Just Simply Fabulous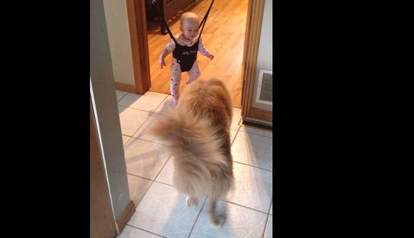 "The mediocre teacher tells. The good teacher explains. The superior teacher demonstrates. The great teacher inspires," the late William Arthur Ward, American writer and prolific spouter of maxims once declared.
Consider this dog great, then. With bounding leaps not only does Day the dog conquer shadows, he inspires baby Alexis to bounce to great heights (limited only by bungee string length):
Dogs jump for a variety of reasons, including play and greeting. (Check out Day's graceful bounce at the 0:23 mark.) Of course, always keep an eye on dogs playing with babies, says the ASPCA, and make new introductions with care.