Stray Dog Joins Race And Runs 15 Miles To Find A Family
"He was just running and jumping, all excited to see people" ❤
Sometimes you need to take the initiative to change your circumstances in life. It worked for Max.

The pit bull mix was hanging out along a road near Dunn, North Carolina, in December when he spotted a group participating in a holiday charity run and decided to join them.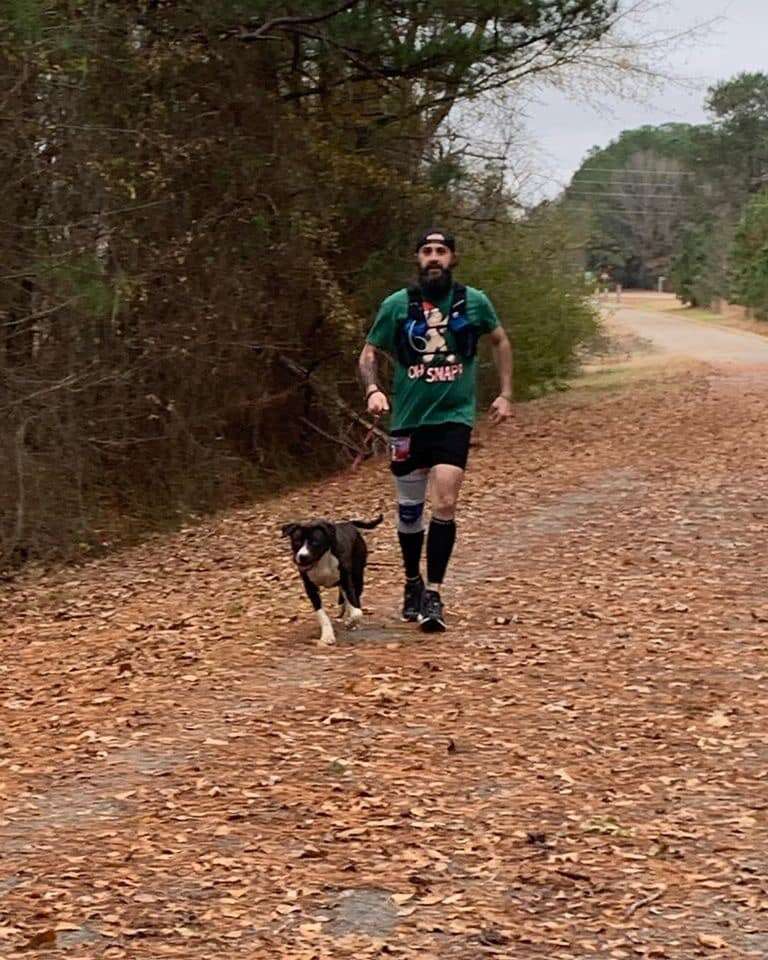 "He was just running and jumping, all excited to see people," Charles Akers, one of the runners, told The Dodo. "We all figured he was someone's dog. So, no one thought much."
Max soon proved he wasn't just along for a joyride; he was in for the long haul. He ran 10 miles with Akers and 5 more miles with another running group.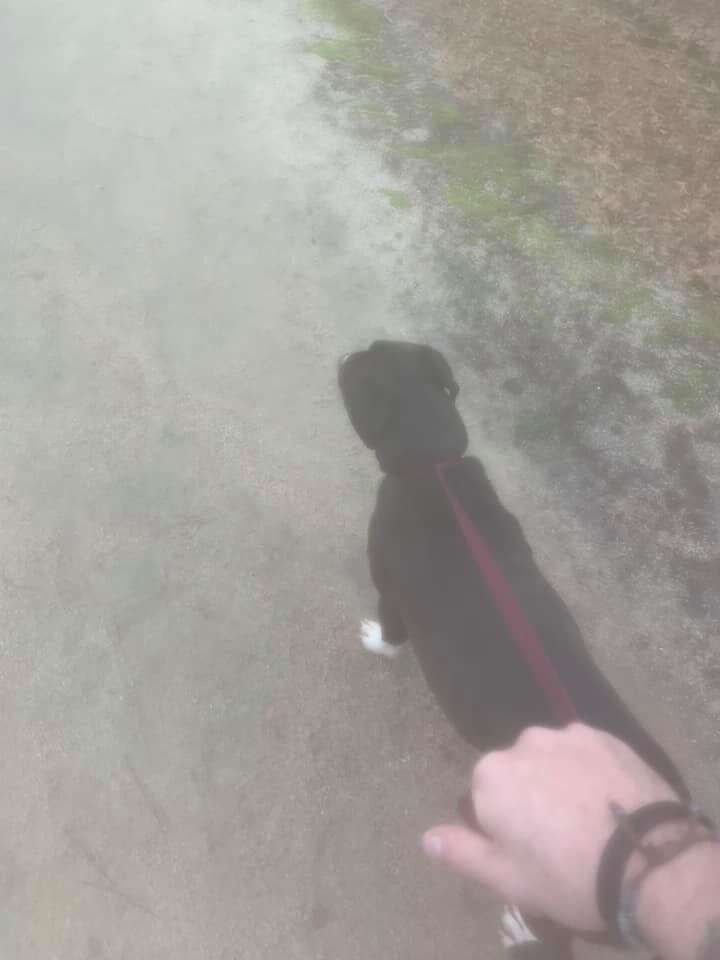 When Akers made it to the finish line, he spotted Max again, still full of energy and ready for the post-race celebration. But the dog didn't seem to belong to anyone and he didn't appear to be heading home.
"I saw him in the back of a truck looking all excited," Akers said. "He was jumping out of the truck. The race director had contacted authorities."
Akers, a dog lover, thought bringing in the authorities would dampen the party spirit, so he called his wife for help and watched Max until she arrived. "He did great. He would follow directions, sit and stay on command," Akers said.
When Akers' wife arrived, she brought Max to a local veterinarian to check for a microchip.
"He was chipped," Akers said. "'Thank God,' we thought."
They contacted the owners, and the conversation, Akers said, didn't end with the holiday magic they had hoped. "They responded with, 'Take him to the pound, and we will think about it,'" he said.
Bummed and worried about Max, Akers and other runners started spreading the word about the 1-year-old running sensation on social media.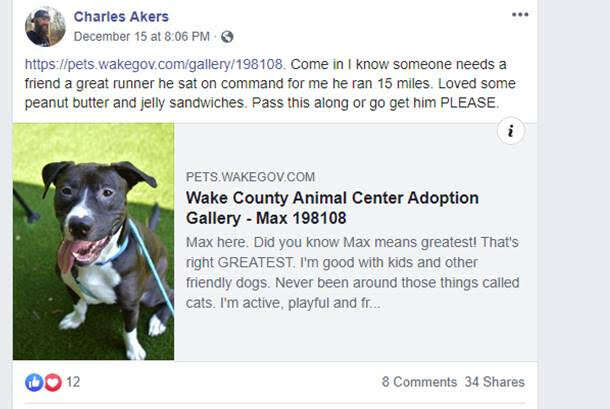 Akers and his wife already have a full house with three dogs and a cat of their own, so they reluctantly took Max to the Wake County Animal Center — but kept posting about him online, hoping someone would adopt him.
It turns out Max is somewhat of a regular at the shelter.

"He was originally owner-surrendered to us in May. His owner said it was because they were moving," Dr. Jennifer Federico, animal services director at the Wake County Animal Center, told The Dodo. "Then, he was adopted in June."

Federico said her staff tried contacting his adopters as well, but they didn't call back. So Max went up for adoption again.
But this time around, the shelter had a lot of great insight about Max.

"We have a note on Max that the race director called to make sure we had information about him," Federico said. "That's how smitten these runners were with him. They wanted us to know he's so friendly, super happy, and would be a gem for a running family to adopt."
As the social media posts about Max circulated, Chad Duffy and his family were looking to adopt another dog after their last one passed away.

They combed through dozens of online adoption listings and went to many local shelters looking for the perfect fit. "We were just out looking to find the right dog," Duffy told The Dodo.

Duffy and his wife are both triathletes. They wanted a dog they could run with who would also be good with their daughter.

As Max sat in the shelter, hoping a future running partner would come for him, Duffy noticed one of the posts about Max. He and his family headed over to meet the dog.

"We figured he would be adopted after the Facebook post," Duffy said. "I didn't think he would still be there. Then we walked by his kennel; at first, we didn't realize it was him. Then we saw his name and realized it was him!"
Within moments of meeting Max, the Duffys realized he was meant to be their dog.
"I was amazed. He was so friendly," Duffy added. "My wife and daughter went into the kennel, and he was all over them. He took to them like glue. We could not walk about without him. My wife and my daughter were in tears."
Max's new life, of course, includes running with his athletic human parents, sometimes up to 6 miles a day.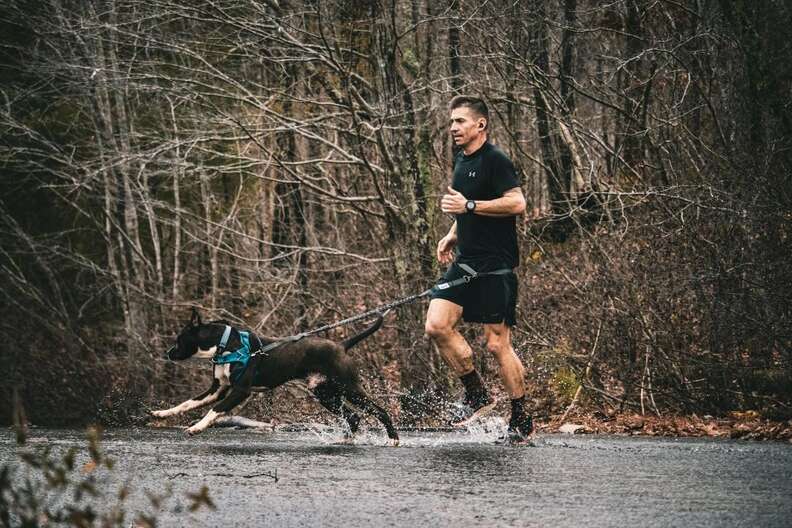 Max also joined a new running club with his dad. "I took him on a group run two weeks ago, and he ran so well with me," Duffy said. "It really motivated him to see all the other people. He loves people. He is that friendly. He will be anybody's best friend."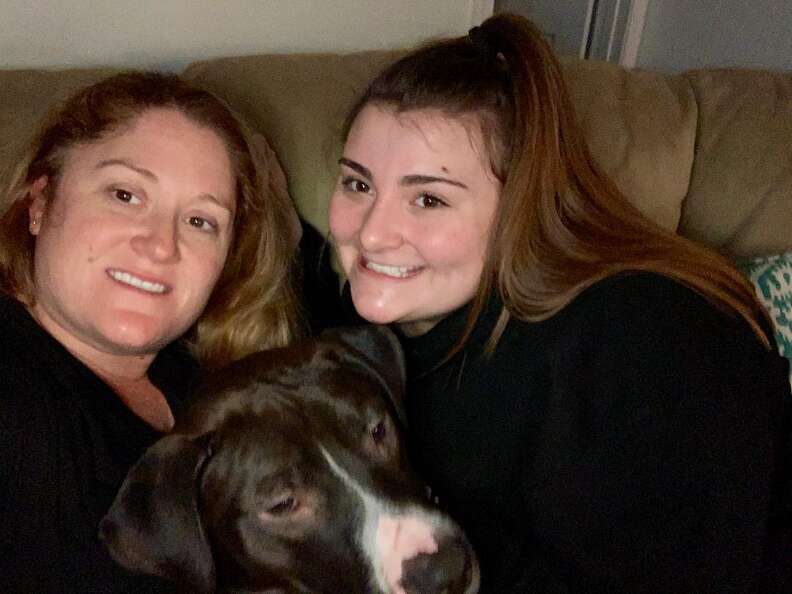 When the runners who tried to help Max found out he was adopted, they were thrilled.

"We just wanted to give him the chance at finding a good home," Akers said. "We have a similar breed, and we know the stigma associated with them. They are loyal, loving dogs who just need a good home."

Federico is so thankful for everyone's help and gives Max some of the credit.

"He wrote himself the best bio he could to find the best family for himself," she said. "He went out there, and he was like, 'Look, here's about me, I like to run.' He wrote his own adoption ad. It's the perfect family for him."