Dog Is Abandoned By His Family The Second Their New Baby Arrives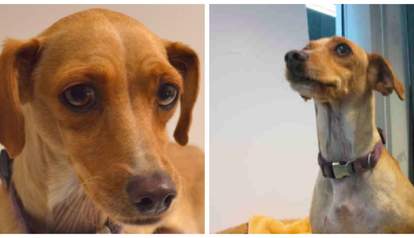 <p> <a href="https://www.facebook.com/LAWVAnimalShelt/timeline"><u>West Valley Animal Shelter</u></a><span></span> </p>
Caramello is basically a perfect pet - a sweet little Chihuahua mix with "excellent manners," he gets along with people and dogs, and loves to be picked up and carried around.
But Caramello still wound up abandoned at a Los Angeles County shelter, through no fault of his own. It was simply because his family had a new baby and decided they no longer had time for their loyal 6-year-old dog.
West Valley Animal Shelter
The saddest part of Caramello's story is that it's so, so common.
Shawn Colon, who helped care for Caramello at the West Valley Animal Shelter, told The Dodo that dogs are surrendered "all the time" when their families have new babies.
Many shelter dogs are just like Caramello - no behavior issues, no trauma - but they were just unlucky enough to have owners who didn't consider them worth keeping around.
Caramello "was a nice dog," Colon told The Dodo - a nice dog who didn't deserve to wind up in a shelter.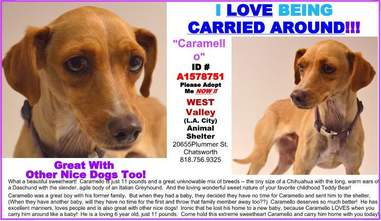 West Valley Animal Shelter
Luckily Caramello's story has a happy ending: He was adopted by a new family who will give him a real forever home. But not all dogs are so lucky.
Some dogs like Caramello, who would make great family pets, are taken to crowded county shelters and never make it out. Each year, approximately 1.2 million dogs are euthanized in shelters in the United States.
If you're ready to adopt a shelter pet like Caramello, search for rescues on Adopt-a-Pet.com.