Dog In Shelter For Over 1,100 Days Just Wants A Home For The Holidays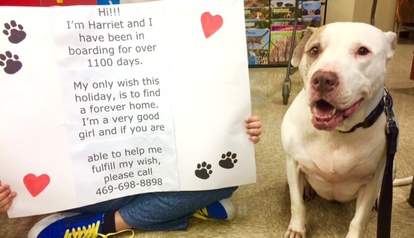 The most deserving dogs can sometimes go unnoticed - even for thousands of days.
Kimberly Jones
Kimberly Jones
Harriet, a 6-year-old pit bull, has everything a family could ever want in a dog. She's outgoing and loves to run and play with anyone who will give her attention. She loves swimming, car rides and just about anything as long as she's doing it with someone she loves. She's great with even the smallest of kids.
Kimberly Jones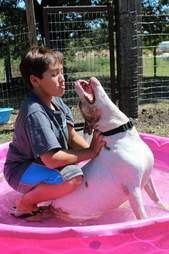 Kimberly Jones
But for some reason, Harriet just can't seem to find a forever home of her own.
Harriet was adopted from Rockwall Animal Rescue in Texas into a loving family, and her rescuers assumed that would be her happily ever after. Sadly though, Harriet's family lost their home, and could no longer afford to keep her. After knowing what it's like to finally be loved, Harriet was sent to live in boarding - all alone in a tiny cell, just wanting a happy home again.
Kimberly Jones
Kimberly Jones
This sweet dog has been in boarding for over 1,100 days. On rare occasions when she is able to escape she is nothing but wonderful, showing off her manners and skills, hoping her second chance is just around the corner.
"She so badly wants to be back in a warm home with a family of her own," Harriet's team wrote on her Facebook page.
Kimberly Jones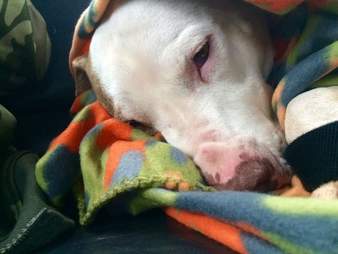 Kimberly Jones
Harriet has so many people in her corner, cheering her on and working so hard to find her a home. She recently went on an outing with some of those amazing volunteers and loved cuddling with her brand new blanket in the backseat while out on a beloved car ride. Harriet's rescuers even made a sign for her, to remind the world exactly what poor Harriet is going through.
Kimberly Jones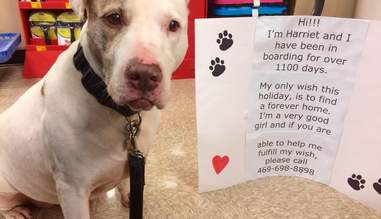 Kimberly Jones
She isn't asking for much - just a place to finally feel safe.
Kimberly Jones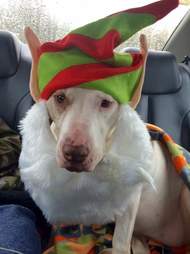 Kimberly Jones