Dog Shot With Arrow Determined To Live A Normal Life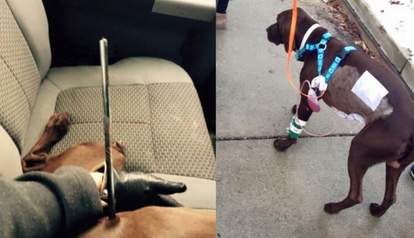 <p> Tina Fascina / Facebook </p>
We've come to expect our dogs to bring home the the unexpected. Big old stick. Someone else's ball. New friend.
Not so much an arrow in his side.
The arrow cut so deeply, it actually pierced through to the other side of the German shorthaired pointer.
But perhaps the unkindest cut of all was the idea that a human being could use a dog for target practice. Remington was, after all just on a walk with his owner Tina Fascina, when the arrow came seemingly out of the blue, according to CBC News.
So far, police in the Ontario town of Haviland Bay are questioning one individual in regards to the incident, but charges have yet to be laid.
As for Remington, his morning walk became a harrowing journey towards recovery.
After the attack, he was transported to the MSU Small Animal Clinic in Lansing, Michigan, where veterinarians performed emergency surgery.
"Remington is well on his on his way," Fascina wrote on her Facebook page. "He will be here for at least a few days. He is well sedated and the staff here are wonderful. The drain tube has to stay for a few more days."
And then came the words every dog owner wants to hear when their best friend is laid up hospital.