No matter how much they want to, there are some places our dogs can't follow us.
Unless that dog is Lego.
When he recently noticed that his little boy, a 3-year-old named Tupper, was having a nightmare - thrashing and screaming in his sleep - Lego sprang into action.
The dog scampered onto the couch and nuzzled up against the boy, wrapping himself tightly around him - until he had chased the nightmare away.
That's just what Lego does. In fact, there's nowhere on Earth, or anywhere else it turns out, where he isn't watching out for his boy.
"Lego settles him and cuddles with him during the night so we, as parents, don't need to wake up multiple times a night," his mother, Nancy Dunlop, tells The Dodo.
Lego has been making that kind of difference in the lives of this family from Winnipeg, Canada, since he began training with Tupper last December.
He moved in with the family full-time in February. And the life of a little boy, diagnosed with autism spectrum disorder (ASD) when he was just 2 years old, hasn't been the same since.
The thing is, without Lego, Tupper wouldn't be getting much sleep at all. Before Lego came along, the boy's mother explains, Tupper slept between three and six hours per night. But he woke up every 20 to 40 minutes.
"Now he sleeps eight to 10 hours a night," Dunlop says. "Most nights straight through."
And Lego saves his boy from waking nightmares too. Like when Tupper starts banging his head against objects or scratching and biting himself.
The ever-watchful dog often just needs to nudge Tupper to break that self-destructive pattern.
There were also times when Tupper would simply bolt into traffic when he's outside. Not so much any more. He likes to stay close to Lego. And even the boy does decide to run, Lego simply holds him with a well-placed paw.
"Lego is learning to chase down and contain Tupper to give us time to catch him," Dunlop says.
"Lego helps to interrupt Tupper when things are leading to a meltdown and helps to calm him when stressed," his mother says.
While much of Lego's incredible abilities as a medical service dog come from extensive - and costly - training from MSAR Service Dogs, there is something so natural about the bond between this boy and his dog.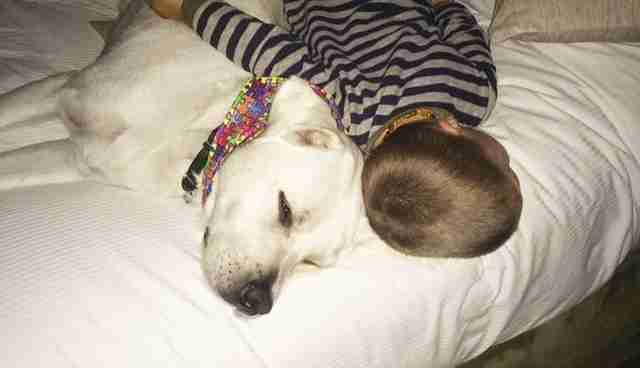 It's a bond that's built on trust and love and the mutual feeling there's nowhere one can go, without the other following.
Want to keep up with Tupper and Lego? Follow them on Facebook.