How To Keep Your Dog Safe From A Nightmare Dog Grooming
<p><a href="https://www.facebook.com/photo.php?fbid=10204748354692350&set=a.10200462793716004.1073741828.1341736312&type=1&theater">Facebook/Allison Marks</a><span></span><br></p>
The Dodo asked experts what you can do to keep your dog safe.
"Unfortunately, because these businesses are not closely regulated, the quality of care found in such operations varies tremendously," K.C. Theisen, director of pet care issues for the Humane Society of the United States, told The Dodo. If you suspect a groomer of not being humane when grooming dogs, Theisen urges that you directly express your concerns to the management or corporate office and, for the sake of your pup, take your dog elsewhere.
Some people have successfully gotten help with costly vet bills to rehabilitate their dog after a grooming injury. Thiesen also offered some tips if your dog gets injured while at the groomers:
Document everything.
If you know of a grooming facility that is not working with animals in a humane fashion, document everything, including a description of the incident(s) itself, who you have spoken to regarding the situation, as well as dates and times.
Report the incident.
Report the incident(s) to several sources, like the National Dog Groomers Association of America and the local chapter of the Better Business Bureau or your state's consumer protection division.
Keep veterinary records.
If you take your dog to a veterinarian as a result of the injury, obtain the medical records from the vet hospital and a letter from the vet stating their opinion of the cause. You will need these records if you intend to be reimbursed for the medical attention for the injury.
Check to see if it's animal cruelty.
If your complaint deals with animal abuse, contact your local animal control agency to see if any animal cruelty laws have been broken.
Shutterstock
A veterinarian in New York City, Robert Proietto, further suggested that dog lovers avoid groomers who have the ability to sedate an animal with medications (usually acepromazine) outside of the direct supervision of a veterinarian.
Sadly, tragic accidents do occasionally happen. As long as dog grooming remains largely unregulated, nothing can totally ensure your dog's safety. "My concern is that this doesn't happen to anybody else's dog," Lacy, Keisha's owner, told local news. "That you have some kind of protocol in place, someone there watching the dog all the time. You wouldn't leave a baby in a bathtub and step away."
As the old adage goes, if you want something done right, maybe you'd better do it yourself. Check out these tips from the ASPCA on how to safely groom your own pet.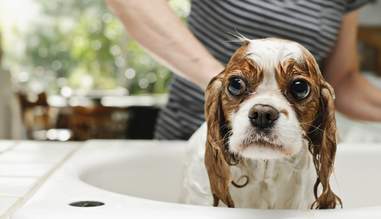 Shutterstock