Mishka's a Karelian bear dog, a large type of dog known for being playful. But when an orphaned fawn needed somebody to foster her, he got to show his gentler side.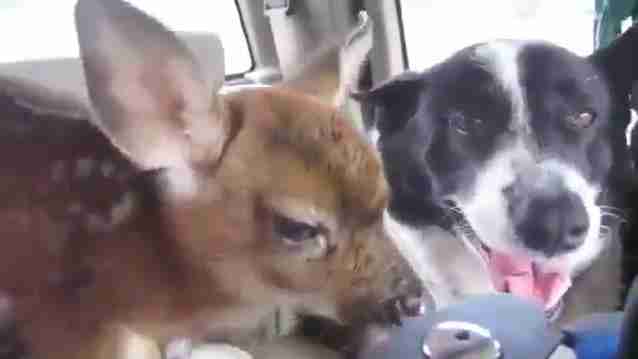 In the wild, a mother deer would lick her fawn's face and body to clean her. In the rehabilitation program, Mishka filled in for the mother by sharing plenty of kisses and one-on-one time.
Although the two are different species, Mishka provided a companionship unlike what any human could give. His canine instincts told him how to care for newborns.
Though he successfully fostered numerous fawns, Mishka's other role in the WDFW required a much different temperament.
When he wasn't kissing orphan fawns, Mishka was barking loudly into the faces of bears who had grown too comfortable with human interactions.
"He will go nose-to-nose with a bear," Richards told a local newspaper in 2015. When the state released bears who had wandered into human territory, Mishka would frighten them as a reminder to fear humans. If bears lose this fear, they often return to human territory and endanger people - and themselves.
Nowadays, Mishka spends most of his time hanging out with Officer Richards. The two retired together in 2015 after Richards served in the department for 41 years.
After all that barking at bears and nuzzling fawns, Mishka deserves a rest in his golden years.
You can watch the full video of Mishka at work below.