Little Dog Is Swept Away By Massive Wave (And Lives To Wag His Tail)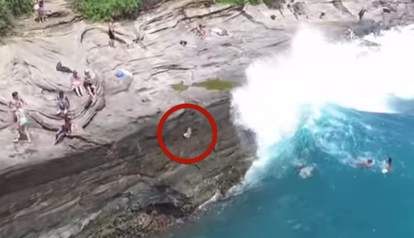 <p> <a href="DK%20Rock%20Don" target="_blank">YouTube/DK Rock Don</a><a href="DK%20Rock%20Don"></a> </p>
A little dog is lucky to be alive after a sunny day on the coast of Hawaii nearly turned tragic.
Drone footage taken in Honolulu over the weekend shows the playful pup happily scampering along the rocky shoreline at Maunalua Bay's China Walls. Moments later, a massive wave appears, barreling down on the helpless animal and leaving him with no time to escape.
"The dog was on the ledge because he followed the owner down. The owner jumped off the ledge at China Walls," drone operator Donnie Klotz told Hawaii News Now. "The dog went down one level and was just you know looking for his owner so when the wave came the owner didn't even see the dog getting washed off."
Amazingly, after the swell subsided, the little animal can be seen emerging from the whitewater, disoriented but afloat. Fortunately, a swimmer - said to be one of the dog's owners - was able to intercept him and carry him back to shore.
Once on dry land, the lucky pet appeared to be no worse for wear and was soon back to wagging his tail after the death-defying ordeal, a witness told the news outlet:
"The dog was saved and a little shaken up but in no time was back to himself."