After 15 Years In A Shelter, Sweet Dog Finally Finds A Home
<p> <a href="https://www.facebook.com/107068406085540/photos/a.107693392689708.6618.107068406085540/716453248480383/?type=1&theater">Facebook/SaveAPetAdoptions</a><span></span> </p>
<p> <a href="https://www.facebook.com/107068406085540/photos/a.107693392689708.6618.107068406085540/716453248480383/?type=1&theater">Facebook/SaveAPetAdoptions</a><span></span> </p>
Chip arrived at an animal shelter when he was only a 7-week-old puppy in need of a loving forever family. And then for the next 15 years, he waited.
The little gray dog spent almost his entire life at the Save-a-Pet Shelter in Port Elizabeth, South Africa, until Thursday, when Chip finally got to go home with a dad of his very own.
One of Chip's fans posted a desperate plea on behalf of the aging dog earlier this week, writing "Chip has NEVER had a home, NEVER had a family to love and cherish him, NEVER had someone to play with him or take him for walks, NEVER had a warm bed to sleep in or a human to cuddle up to."
Now, finally, Chip will have everything a dog could want. On Thursday afternoon the shelter posted a triumphant adoption portrait of Chip and his new dad, Jaco Rademeyer, about to take the little dog to his very first home.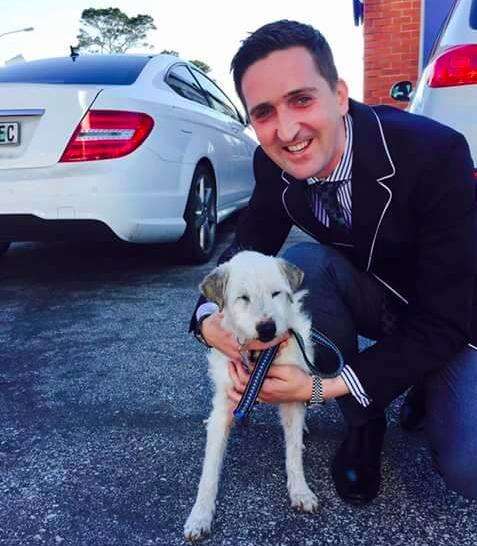 Chip has some medical issues, so he may not have many years left to spend with his new family, but he'll finally have all the comfort and love he craves. While animal shelters do amazing work helping the neediest pets, there's no replacement for the love and connection animals can have with their human family. And now, Chip will get a chance to know what that can be like.
If you're ready to adopt a pet (of any age!), see available rescues at Adopt-a-Pet.