Dog Living Near Freeway Meets People Who Understand Her Anxiety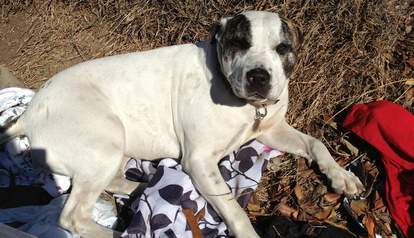 The only home one pit bull knew was a homeless camp near a busy freeway.
Sharra Platt, a volunteer from Karma Rescue, started seeing the white and black pit bull whenever she took the Crenshaw Boulevard exit on the Santa Monica (I-10) Freeway in Los Angeles. The dog would often be lying on a pile of old clothes, or sitting beside a man as he panhandled at the corner.
Karma Rescue
Karma Rescue
Platt figured someone was taking care of the pit bull, but she wanted to make sure the dog was healthy and had enough food and water. But going into the homeless camp took courage. "I was very tentative about going in," Platt told The Dodo. "Then one day I saw two women in there, so I decided this was the safest it's going to get."
Platt introduced herself to the camp residents and learned that the pit bull was a female dog named Clarissa. She looked healthy, but there was no food or water out for her. So Platt started visiting every few days to bring Clarissa food, make sure she had clean water and, of course, to give her some affection.
Karma Rescue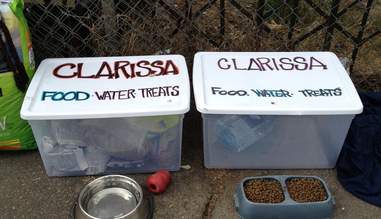 Karma Rescue
At first, Clarissa seemed wary of people, probably because she wasn't used to getting much attention. But each time Platt visited, Clarissa became more and more affectionate. "She'd crawl on my lap every time after the first few visits," Platt said. "It became clear to me that she craved attention."
Then everything changed for Clarissa. Her main caretakers at the camp moved to another part of Los Angeles. They told Platt they'd take Clarissa, but they ended up abandoning her for three days without food, water or shelter.
Thankfully Platt noticed, and she phoned Karma Rescue, getting permission to pick Clarissa up. "When I put a leash on her, walked out with her and put her in my car, she was so happy and had a huge smile on her face," Platt said.
Karma Rescue
Karma Rescue
Yet Clarissa still had a long road ahead of her. When Karma Rescue placed her in a temporary foster home, she developed anxiety, and would "scream" whenever she saw another dog, making it impossible for Clarissa to attend adoption events.
Instead of giving up, Karma Rescue ended up spending thousands of dollars for Clarissa to be trained at K9s Only, a training facility in Los Angeles, where Clarissa learned social skills and got basic training. It was here - at the training facility - that Clarissa met her future sister.
Karma Rescue
Karma Rescue
"There was a dog named Penny who would go to K9s Only, and her owners noticed that Clarissa looked a lot like their dog, but with opposite markings," Platt explained. "So they asked to meet her, and the meeting went well. The trainers started walking the dogs together, and Penny's owners had the dogs go into play care together."
Karma Rescue
Karma Rescue
Penny and Clarissa hit it off so well, the family adopted Clarissa. Now Clarissa enjoys walks with her sister, snuggles on her new owners' laps and long snoozes on the sofa. But whenever Platt visits, Clarissa makes it quite clear she has never forgotten her.
Karma Rescue
Clarissa's story has a happy ending, but other pit bulls aren't so fortunate. Pit bull mixes are one of the most common types of dogs who end up in shelters in the Los Angeles area, and many of them end up being euthanized. According to Pit Bull Rescue Central, pit bulls comprise of 40 percent of all dogs in the 12 registered Los Angeles shelters, and 200 pit bulls are euthanized every day just in Los Angeles County.
Karma Rescue is a non-profit group that rescues pit bulls, as well as other dog breeds and cats. They rely completely on charitable donations from the public to provide their rescues with food, housing and veterinary care. To support Karma Rescue, please visit its website.
Karma Rescue
Karma Rescue