11 Dog Besties Who Are Total Dynamic Duos
1. "Shh! The human is looking at us! Stop talking about our plans for world domination!"
2. "All right, Doug, two more miles to the interstate and we're outta here!"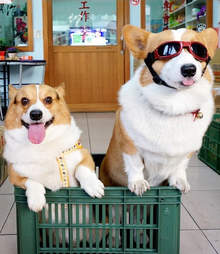 3. "You know, this really is where we get our BEST thinking done."
4. "Ugh, I promise, we buried the bone on THIS side of the yard!"
5. "Thanks for being my workout motivator, Fred."

(Giphy)
6. "Psh. I TOLD you I was the strongest."
7. "Frank, I've told you a thousand times, you're supposed to SMILE for photos."
8. "If we end up at the vet again, let's make a break for it."
9. "Fine, Carl, I'll get your frisbee for you ... and a 'thank you' would be nice, ya know!"

(Giphy)
10. "OK, we have to work together if we're gonna complete this dog park mission!"
11. "Thanks for the good times, buddy."

(Giphy)