After a couple ended up with a dog they weren't prepared for, the poor pup spent an entire year in a cage - until he was taken in by people who had so much space and love for him.
Ryder the St. Bernard was born to a breeder and quickly sold to a couple. The man who bought Ryder did so on a whim, without really thinking things through or talking to his wife first. Once he arrived home with Ryder, he realized he and his wife didn't have any room for the large, energetic puppy, Ryan Hamilton, Ryder's new dad, told The Dodo.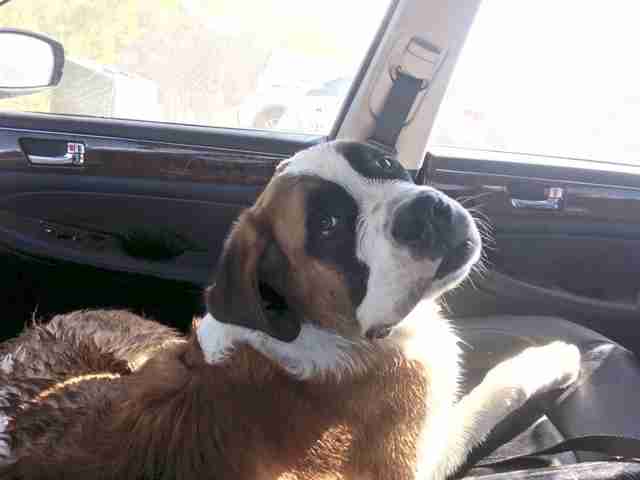 Unsure of what to do, the couple kept Ryder in a cage, and that's where he spent most of his time for the first year of his life. Finally, the couple decided to surrender Ryder to a local shelter, so that he could have the best life possible.
The woman who cleaned the couple's house - Hamilton's wife - had seen Ryder in his cage on her visits and had quickly fallen in love with him. She and Hamilton already had a few rescue dogs of their own, and when they heard that Ryder was going to be taken to a shelter, they stepped in and decided to adopt him themselves.
"I got one look at this guy and just couldn't resist, so Ryder never actually made it to a shelter, because we stepped in before they took him," Hamilton told The Dodo.
As soon as he arrived in his new home, Ryder immediately began to thrive. He now lives in a home with three acres of property where he run around whenever he wants, and has five brother and sister rescue dogs to play with all day long.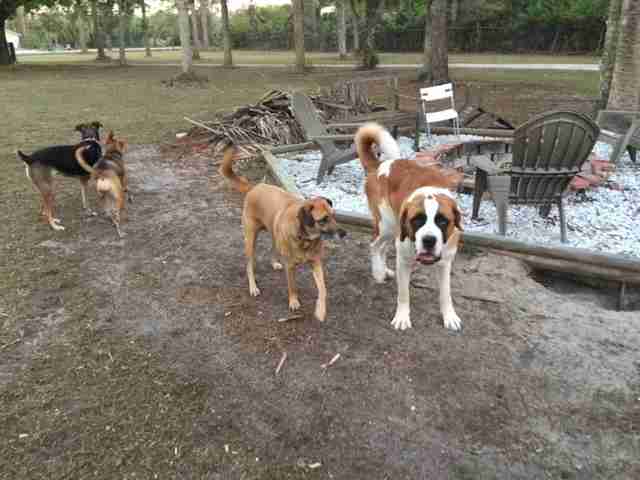 Ryder absolutely adores his new mom and dad, and is so grateful to them for giving him a home and more space than he knows what to do with.
"I don't think he has a mean bone in his body and he's always happy now that he is out of his cage," Hamilton told The Dodo. "He needs to be physically touching us as he follows us everywhere we go. He's just a great big lover who craves attention."
Some of Ryder's favorite things to do in his new life are play with his siblings ...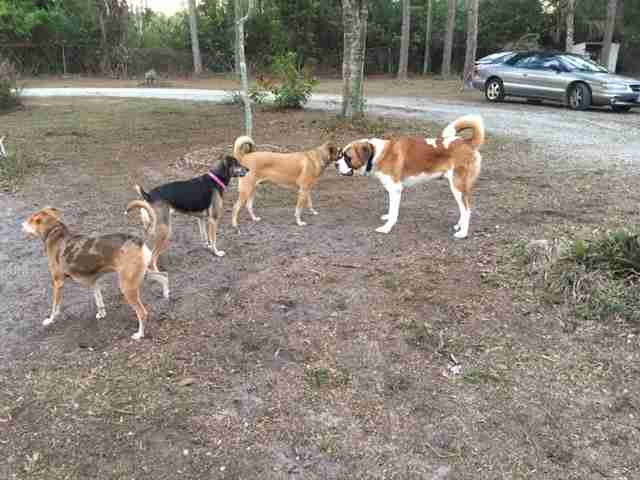 ... go to the dog beach ...
... and say hello to the two potbellied pigs who live on his property.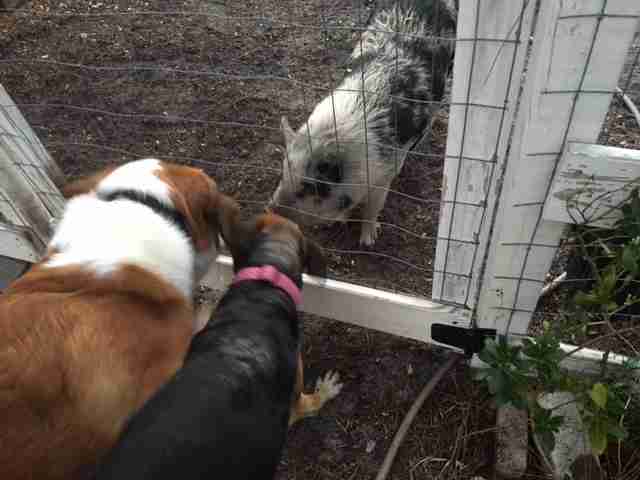 Ryder's parents also love taking him out to dinner with them at restaurants with outdoor patios, where Ryder gets more attention than he could ever imagine.
"He just sits very peacefully and well behaved, besides trying to steal food off the table from time to time," Hamilton said. "He's the type of dog that when you take him out in public people just get one look at him and run over to love on him. He loves all the attention."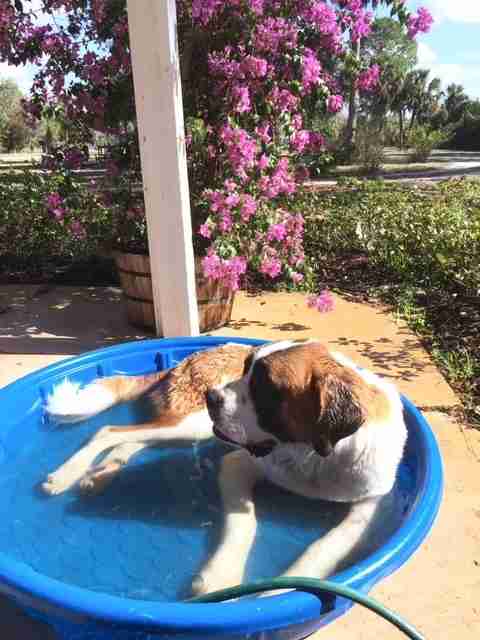 Ryder had a rough start to life, but now he has all of the space he needs and deserves, and will never have to be confined to a tiny cage ever again.