Humphrey the dog was a little standoffish when his parents, Samantha Tungul and Jeremy Rood, brought home a couple of rescue pups to keep him - and them - company.
"We call him Uncle Humphrey because he was always just aloof with them," says Tungul. "Never really bonded that much and kind of kept to himself."
They figured Uncle Humph would be more or less the same when the couple began fostering rabbits through their local shelter in Northern Virginia a couple of years ago.
They are so happy to have been so wrong.
"Humphrey is the best dog foster brother, paws down," says Tungul.
Xena and Gabrielle were the first foster rabbits - an adventurous duo who enjoyed jumping around in bed with Humphrey, Tungul says.
"And both of them had no problems crawling all over Humphrey like their own little puppy mountain."
The most recent pair are Jeremy Jr. and Sam Jr. - these rabbits were part of a hoarding case, before winding up in the Fairfax County Animal Shelter.
And Humphrey, as is his wont, was smitten once again.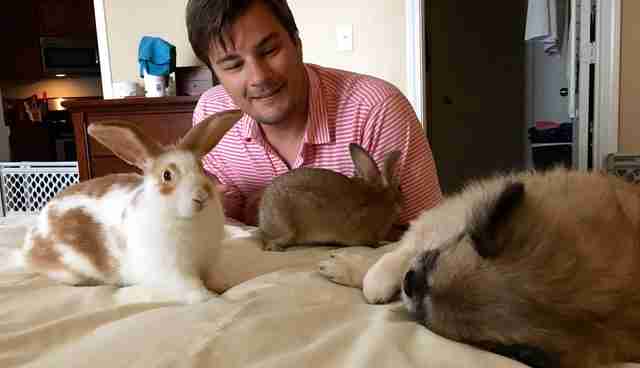 "They don't really understand why this big fluffy thing keeps whining at them. He just wants them to love him back!" Tungul says.
Tungul thinks that, even if the bunnies are a bit confused by their Uncle Humphrey's enthusiastic reception, he also helps them settle into the house.
They're coming out of stressful shelter environments into a brand new situation, and there's this loving, affectionate, attentive dog napping next to them, nuzzling them, keeping careful watch over his big-eared pals.
"It's almost like he says, 'It's OK, you're safe here,'" says Tungul. "Most of the time our fosters warm up to him first and then everyone else in the house."
One day, Tungul and Rood plan to move out of their small condo and into a bigger place. Then, they will adopt Humphrey a permanent bun.
For now, it'll be a steady stream of fosters hopping through, giving them a sweet taste of home life, easing some pressure from the shelter, providing lots of fun for the humans - and, of course, making Uncle Humphrey's heart go flippity flop, over and over and over.
"He's always terribly excited when they come home," says Tungul. "I just love that they bring him so much joy."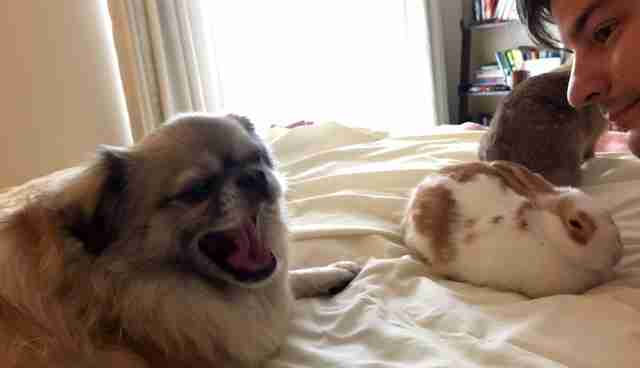 For information about introducing dogs and rabbits, click here.