Dog Dumped Down Sewer Pipe Is Lucky To Have Found A Hero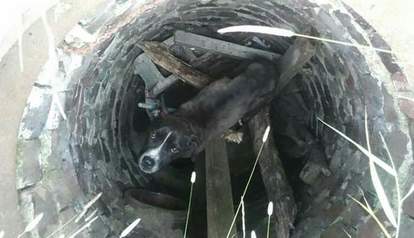 <p> <a href="https://www.facebook.com/pages/Mars-From-Hole-to-Hope/1620053328269070?sk=timeline" target="_blank">Facebook/Mars - From Hole to Hope</a><a href="https://www.facebook.com/pages/Mars-From-Hole-to-Hope/1620053328269070?sk=timeline"></a> </p>
Tyler Price and his cousin were walking near their home in Flint, Michigan, recently when he made a startling and serendipitous find - one which ultimately saved a very sweet dog. While passing by a sign lying on the ground in a vacant lot, Tyler casually lifted it up with his foot, revealing the entrance to a deep drainage pipe and the helpless soul trapped at its bottom.
"All I could see were his eyes," Tyler told news station WJRT.
There, 7 feet down atop a pile of debris, stood an emaciated pit bull who had no chance of escaping on his own. It's unclear just how long the dog had been down there languishing alone in the dark, but judging by his frail condition without food or water, he wasn't likely to survive much longer.
For Tyler and his cousin, leaving the dog behind just wasn't an option. Unable to get the dog out on his own, Tyler called his father for help. They contacted police and a local animal rescue group for further assistance.
Together, they were able to pull the dog up to the surface with a rope, offering him food and water after his long ordeal.
Afterward, the pit bull was taken to the vet for a checkup and placed under the care of Terissa Kerr, who fosters pets in need. Although he was found to be severely underweight, and suffering from heart worms, the dog is still incredibly loving after his long ordeal underground.
"You can't get near him without getting kissed," Kerr told WJRT. "He's amazing."
No one can say for certain how the pit bull ended up trapped in the pipe to begin with, but all signs point to the disturbing fact that he had been placed there intentionally.
Even though it's been just over a week since he was discovered, the dog - who now goes by the name Mars - has already added 5 pounds to his gaunt frame. Still, his health problems will take time and money to resolve; his rescuers have set up a fundraiser to help cover the costs of his care.
Kerr thinks that if all goes well for Mars, he will be available for adoption in about a year.