For too long, Jake was the dog in the box - a gift from a boyfriend to a woman who never really wanted him. So, he spent the first months of his life locked up.
Then Kasey Boggs saw the woman's post on Facebook: "Someone take this dog."
"It was more like a cry for help," Boggs, the Wentzville, Missouri, resident, tells The Dodo.
Having cared for animals since she was 15 years old, Boggs knew a thing or two about rescues.
And, it turned out, Jake knew a thing or two about nothing. Even a cat, a rescue named Mia, terrified him when she first brought Jake home.
"He was like 'Whoa. You're different. I've never seen you and I think you might hurt me,'" Boggs recalls.
That fear lasted about a week.
"They ended up cuddling," Boggs says. "That was good because it taught him unfamiliar things aren't going to hurt you. You're OK."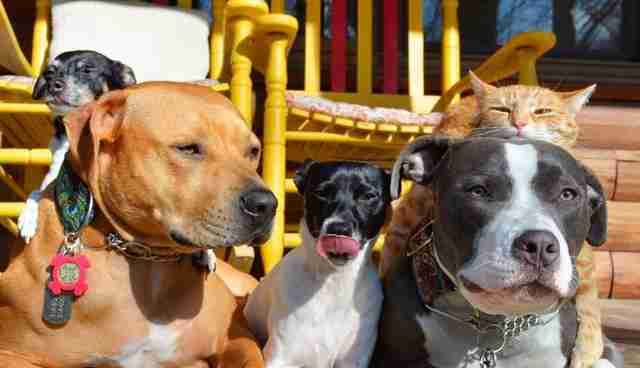 "He spent a lot of time getting used to the little things," she adds. "Like going upstairs. Or getting in and out of the car."
And along came the littlest things of all.
Boggs took home a pair of orphaned ducklings from a nursery up the street. Again, she was extremely hesitant to introduce them to Jake. It was that 'new-thing' anxiety again.
But this connection was instant.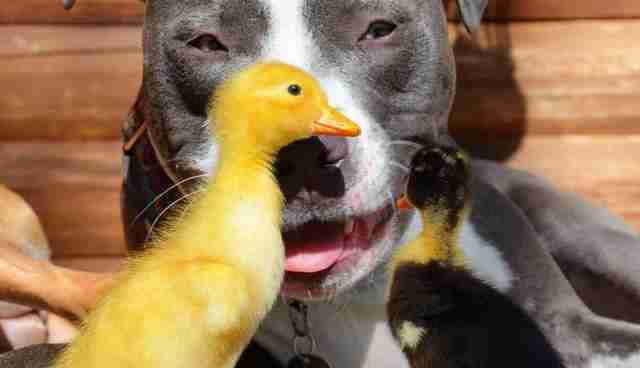 "He laid right by their tub the first night and just peeked over and watched them," Boggs says. "He just really paid attention to them.
"The other dogs were like, 'Cool. You brought some birds home. I want my frisbee. I want to be fed. What's the next thing?'"
Not Jake. He went full 'mama duck' on these orphans.
After a while, Boggs let the delicate ducklings wander a little more freely around Jake.
"When we go upstairs after work, it's me and Jake time and we just play with the ducks," Boggs says. "He goes up there and he just lays on his stomach right away. He knows that that's the position he has to be in because they're still so fragile. Their legs can break over nothing."
It seems these babies are winning more than one heart at at Boggs' home. Her whole pack is getting into the duck love. (Well, OK... maybe not so much the little dog on the far right.)
But Jake's connection with his babies goes both ways.
"If I put all the dogs down on the bed and put the ducks out, they literally go straight to Jake," Boggs says. "He's the one they love."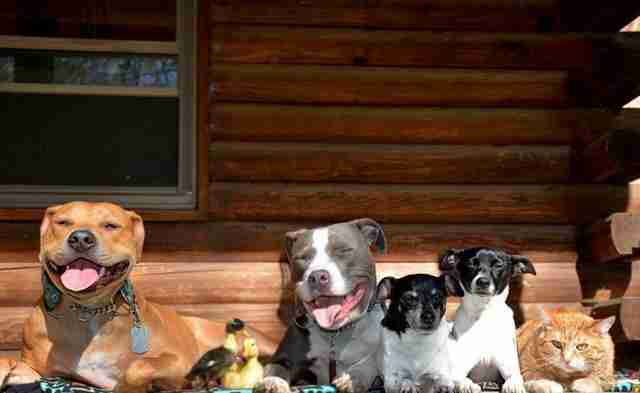 Jake wouldn't be the first dog to fall for a duck. Back in May, The Dodo wrote about Pikelet and Patty Cakes, a couple of pit bulls who bonded powerfully - and photogenically - with their duckling companions.
Jake's case, however, has a twist. The 1-year-old pit bull suffers from a bone disease called Cranial Mandibular Osteopathy (CMO). It typically affects the skull and lower jaw, which can make something as simple as eating a painful experience.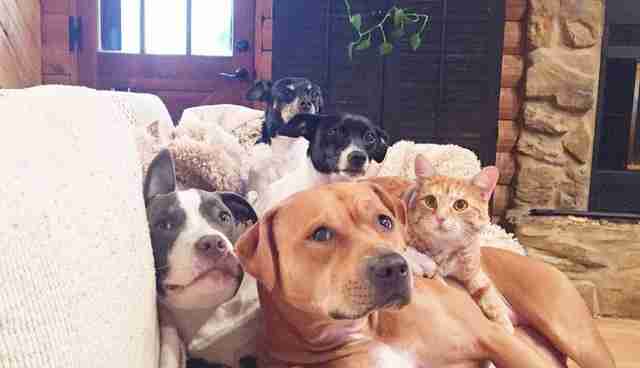 "I believe his condition makes him sympathize and bond with other souls who suffer," Boggs says. "Another reason, I believe, why he took to the ducklings the way he did."
And for these tiny orphans, Jake's love is making a world of difference.
"With Jake's warmth and encouragement and the stimulation he provides them, it really makes up for what they missed out on at the beginning of their lives," Boggs says.
Lucky ducks indeed.
You can see more photos and videos of this unlikely mama duck with her babies on Instagram.