Doting Dog Keeps Baby Entertained, Transforms Crib Into Ball Pit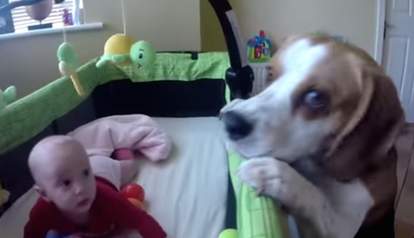 Charlie the dog has the perfect idea for helping to cheer up Laura the baby: toys! And not just any toys. Charlie loves to chase balls, so he figures Laura might appreciate them, too.
Like the dedicated pal he is, Charlie brings every single plastic ball to Laura's crib for her enjoyment.
Charlie even knows how to empty the toy bag all by himself!
Laura may be a bit perplexed by this impromptu ball-pit party, but she's amused nonetheless by her curious and attentive canine guardian.
Thanks for the party, Charlie! We're having a ball!
You can watch the entirety of Charlie's antics below, and more of his adventures with Laura here.