Obese Dachshund Drops 50 Pounds, Becomes A Calendar Model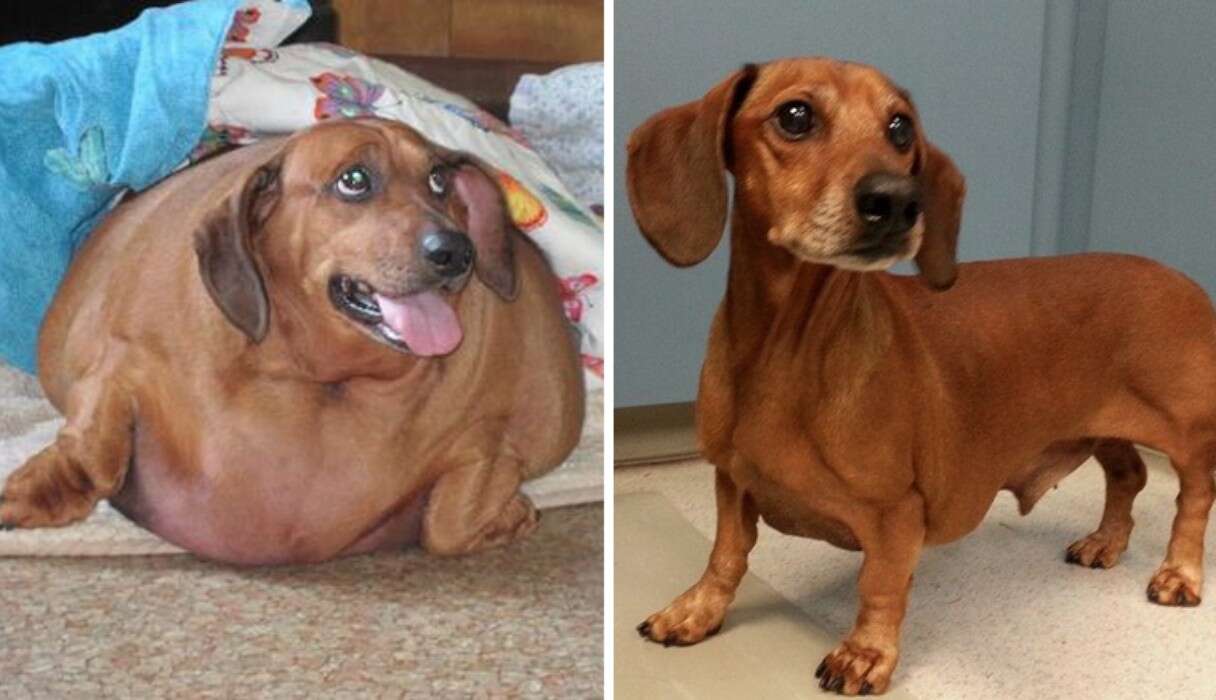 <p><a class="checked-link" href="https://www.facebook.com/BiggestLoserDoxieEdition">Obie Dog Journey</a></p>
There's never been a time in his life when Obie wasn't absolutely adorable and oh-so-lovable - but today, thankfully, he's finally healthy as well. His is a story of perseverance and hard work, now serving as an inspiration to others that it's never too late to make a change for the better.
Just two years ago, the then-5-year-old dachshund was leading a lifestyle that threatened to cut his life short. Obie originally belonged to a well-meaning elderly couple who frequently overfed him as a way of showing affection. But that, coupled with a lack of exercise, ultimately caused Obie to balloon to 77 pounds, more than twice the normal weight for a dog his size.
Eventually, a relative of the couple intervened to find Obie a better living situation, reaching out to a local animal rescue group for help. It wasn't long before Nora Vanatta, a certified veterinary technician with a degree in animal sciences, heard about Obie and volunteered to take him in.
Immediately after adopting him in August 2012, Vanatta started putting Obie on track to better health. Gone were all the high-calorie foods that made him pack on the pounds, replaced with a low-fat, high-protein diet specially designed to help canines slim down. And sure enough, Obie's pudge began to disappear.
Within the first week, Obie dropped 7 pounds, though his body still wasn't ready to handle the physical work it would require to really take the weight off.
Slowly but surely, Vanatta introduced new activities into Obie's day-to-day life - like walks around the block and playtime with her other dogs. And all that extra movement added up to even more weight loss.
Six months into his new healthy regimen, Obie had dropped to 45 pounds - inching ever closer to his goal weight of around 25 pounds.
By spring 2013 (then tipping the scales at less than half his starting weight), Obie had encountered a new sort of problem. He'd lost so much fat, he was left with lots of extra skin that was impeding his now-healthy lifestyle of running around and playing.
So, in April 2013, he underwent surgery to remove the fleshy relic of his former, plumper frame.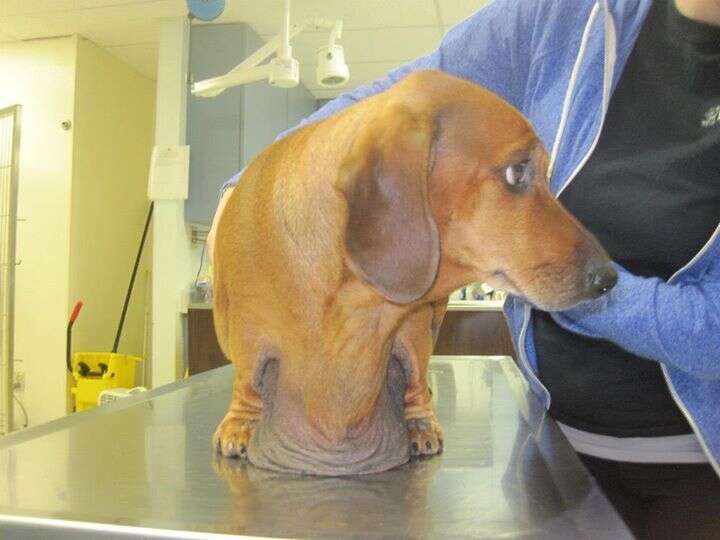 After recovering, Obie was virtually unrecognizable - and as playful as ever. Here he is showing off his svelte new body while enjoying a day at the beach.
And here's Obie on a walk through the woods - an activity which, just a few months earlier, would have been too much for him to handle. Best of all, he enjoys his newfound freedom of mobility, just as every dog should.
"Obie could spend all day lollygagging along," writes Vanatta.
All told, the determined dachshund lost more than 50 pounds in 12 months, trimming down to the weight his body was designed to carry. And with all the hardest work behind him, he's been able to keep the weight off too.
"Obie is doing great and holding steady between 22 and 23lbs for over a year now," Vanatta wrote last week. "He has some residual fat pockets on his sides and lacks normal muscle tone but is healthy overall."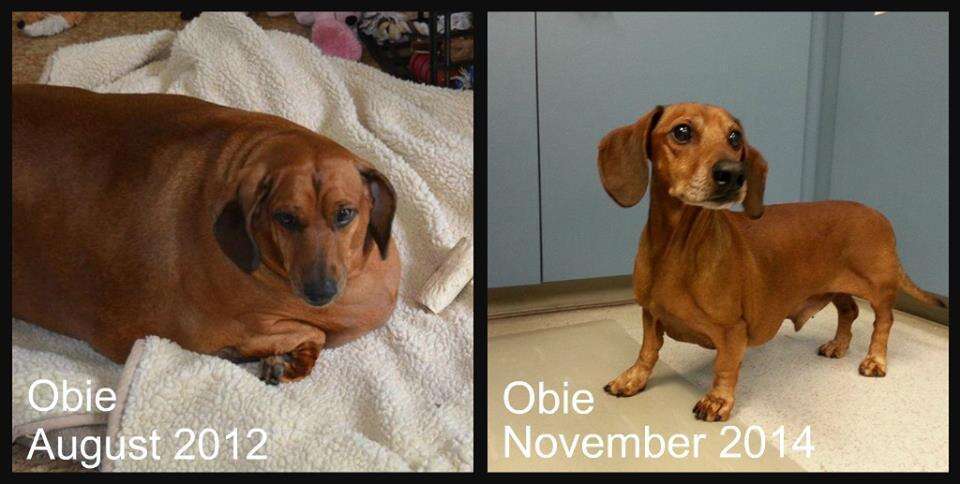 Through the course of his recovery, from obese to slim, Obie has attracted quite a bit of attention. More than 350,000 fans are following his progress on his very own Facebook page, cheering him along from every corner of the globe.
But now the little dog, who so desperately needed someone to help him on his way, is doing the same for others who may be in a similar place in their lives as he was - simply by being himself.
To commemorate Obie's accomplishment, Vanatta has created a calendar featuring the formerly chubby pet she adopted, hoping that it will remind folks of what is possible when a person - or even a little dog - sets his mind to it.
"I was thrilled to be able to help [Obie] with his new life," Vanatta told the Telegraph. "Now I want his journey to inspire other big animals and maybe even their owners to get healthy in the new year."
According to the Association for Pet Obesity Prevention (APOP), an estimated 54 percent of dogs and cats in the United States are overweight or obese. Those extra pounds can lead to a whole host of preventable medical conditions that could shorten the life of our furriest family members. Visit the APOP's website or ask your veterinarian about tips on keeping your pet healthy and active.