Dog Dragged By Rope Into Shelter Will Never Be Scared Again
"Maya will be a very spoiled princess going forward."
Last week, Maya was dragged into a Texas animal shelter on a rope. She was so reluctant to walk through the shelter door that one of her former family members had to pick up the terrified dog and carry her inside.
The whole, heartbreaking episode was caught on video - and that's how Maya's whole life got completely turned around, for the better, forever.
The video spread like wildfire across the internet. Among the people it reached was Stacey Silverstein, cofounder of Rescue Dogs Rock in New York.
"We were moved," Silverstein tells The Dodo. "We immediately contacted the shelter."
Maya got sprung from the shelter last Wednesday.
She is now at the Aldine Animal Hospital in Houston, Texas, being treated for heartworm and getting the other shots and procedures she'll need to be able to come up to New York and find a new home.
Veterinary technician Ashley West tells The Dodo that Maya still seems "very scared."
It's one indication, among many, that the dog wasn't always treated very well in her first two years of life.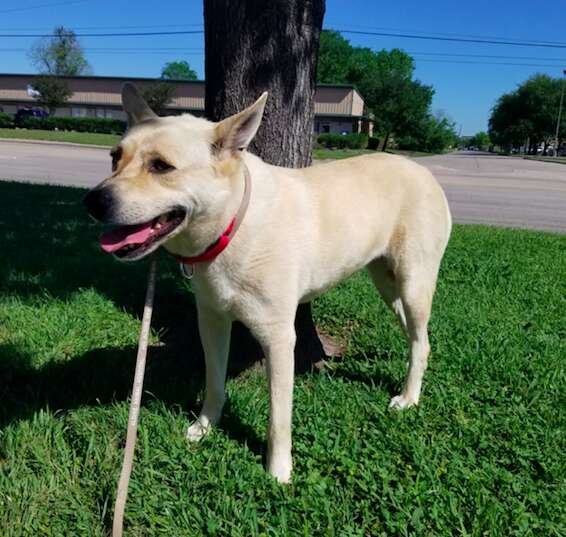 Staff at the hospital have been trying to make up for that. They are showing Maya a lot of affection, and in return she is starting to show them some trust.
"She'll let you pet her and love on her," West says. "She's a good girl."
Maya is even beginning to walk willingly on a leash. At first, she'd refuse; she'd have to be carried. Now, says West, if you put a leash on her, "she'll follow you. She'll walk."
Rescue Dogs Rock is now accepting adoption applications for Maya. You can apply here.
It makes Silverstein happy, thinking about this dog's future - only with people who love her, with people who will let her know that humans can be good.
"Believe me, Maya will be a very spoiled princess going forward," she says. "Healthy, happy and at peace."
You can see more adoptable dogs or donate to Rescue Dogs Rock here.