Dog Dies After Playing With Popular Chew Toy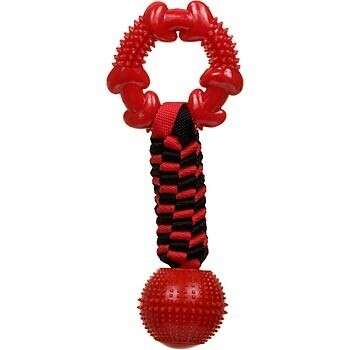 Maximus had been playing with his Kong toy Monday evening when a family member noticed that the ball end of the toy, which only has a hole on one end, seemed to be suctioning to his tongue. Max's family was able to remove it and he seemed fine.
Later, Max woke up his mom in the middle of the night, and she realized the toy was completely stuck around his tongue, and there was no way to remove it. Max was rushed to the vet where the Kong was cut off of his tongue, but the injuries he sustained were too severe, and his family had to make the heartbreaking decision to put him down.
Kong told The Dodo that the availability of the Kong Beast is limited to one retail outlet and the company, deeply upset by Max's death, is taking specific steps to prevent the toy from harming other dogs.
"First, we have worked directly with the retailers that carry the product and together we have placed a proactive hold on the product and are removing existing inventories from the pegs," a company representative said in a statement. "Second, we have implemented safety features within the product to protect against any inadvertent misuse. These design tweaks will be implemented on all existing and new production."
CORRECTION: A previous version of this article suggested that a Kong Classic was involved in this accident. It was in fact a Kong Beast, and the article has been updated to include a statement from Kong.
See the full video about Max's accident below: