Photos Of Dog Dads Who Are Completely In Love
While Father's Day yesterday was a time to hail men who have stepped up to nurture and raise and sacrifice for their children, we'd be remiss not to mention another very special kind of dad.
The kind of hero the world needs more than ever.
This is a celebration of dog dads - the men who have done it all for their canine companions.
From rescuing them to raising them to just making their lives better, these are just a few men who give it all for their dogs.
And Jon Stewart, whose love for animals prompted him and his wife Tracey to found a sanctuary in New Jersey. Stewart is often seen with his three-legged pal, a rescued dog named Champ.
Then, of course, there are the less-heralded heroes who devote their lives to rescuing dogs from desperate circumstances and give them a chance for a real life.
Like Skow, Matt Montes specializes in taking on the tough cases. Earlier this year Montes paid a visit to a shelter in Texas. He found a dog named Toto who had been classified by staff as "mean" and likely to bite. Montes carried Toto out of the shelter in his arms.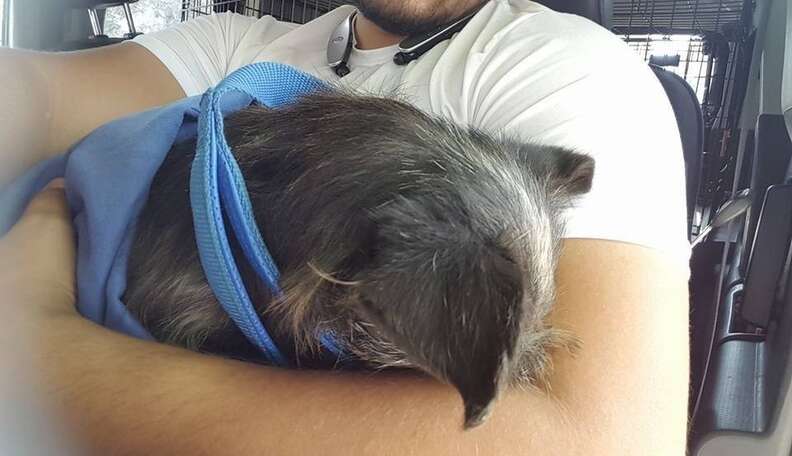 Montes found a forever home for Toto - she had had puppies just days ago - and he continues to help shelter dogs through his Mission Miracle K9 Rescue.
But then there are the dads who fly under the radar. The casual heroes you see every day, whether strolling in the park, chasing a frisbee together or just jumping in a lake.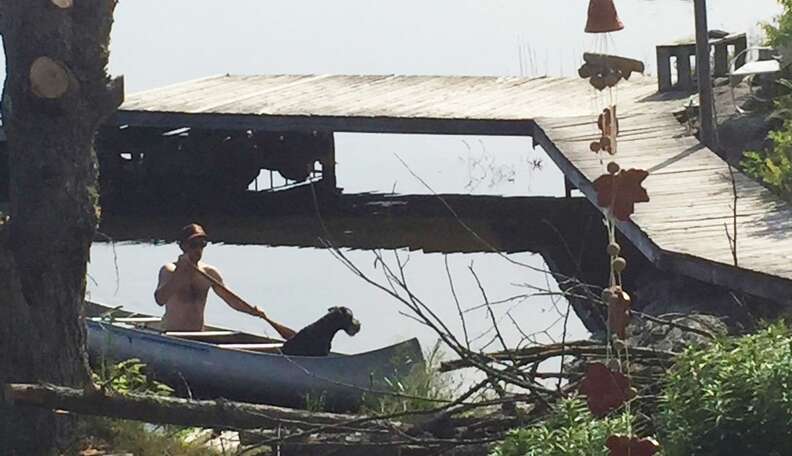 Like Ronan Freeman, who spent last weekend with his girl Lulu, aka Princess Lulukins Fiona Freeman. The pair were spotted at a Toronto beach on Father's Day engaged in heavy father-daughter time.
"She was the runt and had a heart murmur so nobody wanted her," Freeman's partner, Wendy Garcia, tells The Dodo.
Since Garcia travels frequently for work, Freeman finds himself spending a lot of time with Lulu.
"He calls it 'taking Lu out on a date,'" Garcia adds. "They wander the city and hang out all the time."
Dave Kinnear took his boy, a dog named Willie, far from the madding crowd on Father's Day weekend. Willie, rescued from an Ontario animal shelter when he was 5 months old, follows Kinnear everywhere.
Even if that happens to be a cold lake on Georgian Bay.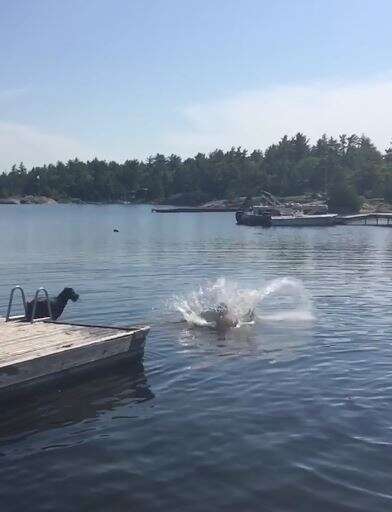 "Dave was just getting wet on a beautiful day with a huge splash," his wife, Brandy Kinnear, tells The Dodo.
And where Dave goes, Willie follows.
Dog daddies of the world, this double cannonball is for you.
Know a great dog dad? Post a picture in the comments section.