Brave Puppy Survives Worst Neck Injury Imaginable
<p> A Way For A Stray </p>
This dog isn't even a year old, but she's already seen enough for a lifetime - and now she needs someone to help her forget.
WARNING: Graphic photos below.
Grace, a Lab mix, arrived at a Miami shelter back in May with a gruesome wound encircling her neck. Someone had placed a puppy-sized collar on her when she was young and neglected to take it off, leaving it to cut through her skin and expose her muscle as she grew.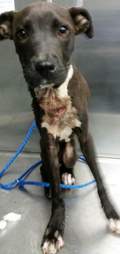 A Way For A Stray
As if that weren't enough, the 5-month-old pup also bore clear signs of abuse or abandonment. She was dehydrated and emaciated, and infested with fleas. On a nine-point scale, shelter workers gave her just a 1.5 for body condition.
A Way For A Stray
But she was also a sweetheart, and shelter workers knew she deserved another chance. They didn't have the resources to care for her so they reached out to local rescues - and Miami-based rescue A Way For A Stray (AWFAS) quickly took her in.
"That's 100 percent abuse," Lyndsey Gurowitz, president of AWFAS, told The Dodo about Grace's condition when she was taken in. "[The collar] was put on by a person who either kept her tied up ... or as she grew never changed it, or put it on so tight that she broke the skin."
A Way For A Stray
Unfortunately, the city shelter doesn't release information about animals they take in, so we'll never know what happened to Grace - whether she was turned in or found or confiscated, or how exactly she ended up with such a terrible wound.
But fortunately she got a new start with AWFAS - though she still had a long road ahead of her. "The wound was infected," Gurowitz said. "For a while they couldn't even do surgery [to close it] because of the infection."
A Way For A Stray
Grace had to wait with her exposed neck wrapped up in bandages until the infection calmed down enough to allow vets to stitch her up. Fortunately, the eventual surgery was successful, and she was put up for adoption in July.
Unfortunately, she then encountered another roadblock. Gurowitz said that because Grace spent her puppy days recovering from the brutal abuse she experienced while young, she missed the period when adopters are most interested, and her dark fur color doesn't help.
A Way For A Stray
"It's typical black dog syndrome, and we really have not had much interest in her," Gurowitz said, adding that Grace is currently AWFAS' longest resident.
A Way For A Stray
But even while potential adopters ignore her, Grace is at her foster home proving what a good family member she'd make. Gurowitz said she loves to spend time with other dogs and with the family's children, and has even learned to get along with the cat - though she does have a cheeky habit of hoarding her toys. In an email to AWFAS, her foster mom described her as "amazing" and "very lovey dovey."
A Way For A Stray
Photos taken by her foster family show a completely different dog, as she smiles into the camera and runs around with a playmate. "She's doing great," Gurowitz said. "Really great."
A Way For A Stray
But she still needs someone to love her forever - which she certainly deserves after everything she's been through. If you think you could be that person, you can fill out an adoption application here.