Her Mom Was Adopted Years Ago ... But She's Still Waiting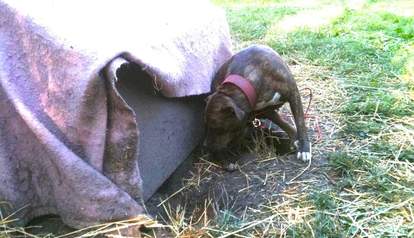 When Chacha's mom was adopted and removed from her life in chains, Chacha was left behind, probably wondering just one thing: When would it be her turn?
From the very beginning, Chacha never had it easy. She started her life chained up outside - 24 hours a day, every day of the year - in a yard near Detroit, Michigan, alongside her mom, Sasha. She hated being confined more than anything, but soon her community became fed up with watching her pain.
Chained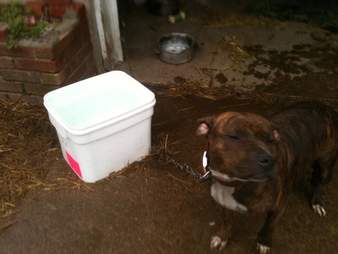 Chained
An organization called Chained, which provides resources and assistance to dogs in the Detroit area, heard about Chacha and Sasha's plight and stepped in to help. Rescuers with the organization were able to fix the fence around the yard where the dogs were being held, and made their environment much more livable. This renovation allowed the mother-daughter duo the freedom to run around rather than being cruelly tied up.
Watching Sasha and Chacha's reactions to finally being able to play freely is incredibly heartwarming. Both dogs were visibly much happier than before, according to Chained - but sadly, everything changed.
Not long after the repairs were made, the dogs' owner decided he could no longer keep Sasha, so he gave her up, separating her from her beloved daughter. "Sasha went into foster care with one of our volunteers who ended up deciding Sasha was a keeper and was to stay with their family forever," Janaye Book of Chained told The Dodo. "That left Chacha all alone in her yard for quite some time."
Chained
Chained
Chacha's owner began occasionally bringing her into the basement instead of forcing her to remain in the yard, but this still wasn't enough to soothe the pup who was missing her mother. In October 2014, Chacha's owner could no longer keep her, and Chained officially took her on. Since then, Chacha has been passed from foster home to foster home, not to mention various boarding facilities, but still hasn't found a permanent home.
Chained
Chained
"Chacha is an amazing dog who absolutely adores humans and even children too," Book said. "She has the best manners and a perfect mellow personality."
Chacha is leash trained, spayed, up to date on all her vaccines and is the happiest dog you'll ever meet, despite her traumatic past. However, she would more easily thrive as the only dog in her new home. "She was raised alone in a backyard, except with her own mother, so who can blame her for preferring to live the 'only child life," Book said. "She is a gorgeous girl who has been waiting way too long to find her happily ever after!"
Chained
Chained
If you would be interested in adopting Chacha, you can email chainedinc@gmail.com to get the process started.