When he left for his overnight shift at work, he thought nothing of leaving his dog tied to a tree.
He would later tell a local TV station he had no idea it was going to rain.
But it did. It really did. Ascension Parish County, Louisiana, where the dog was tied, saw torrential rain that night. In fact, a state of emergency was declared.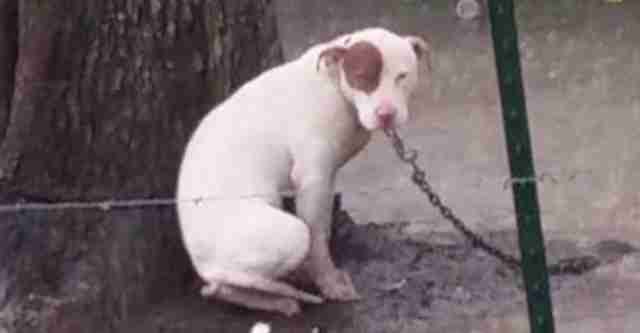 These images, posted to the Humane Society of Louisiana's Facebook page on Friday, show the dog clinging to an ever-shrinking mound of earth amid rising rainwater.
The dog's owner, Tendrick Cooper, addressed the outcry on social media, claiming the pictures don't tell the whole story.
"He has a shelter outside, but he chose not to go in it," Cooper told WSMV 4. "He had the chain wrapped around the tree."
Ultimately, the dog was removed from his lonesome perch by a relative of the owner.
Cooper, who came home to the social media firestorm, has since maintained his dog is not neglected, but rather well cared for. The dog remains with him today.
The images added further fuel to the debate over tethering dogs.
Louisiana's tethering ordinance states, "It shall be unlawful to tie, tether, or restrain any animal in a manner that is inhumane, cruel, or detrimental to its welfare."
While the Humane Society of Louisiana is investigating this case, there are wider calls to put an end to dog tethering across the state. An online petition is demanding Gov. John Bel Edwards outlaw dog chaining across the state.
To learn how to pass an anti-tethering ordinance in your community, click here.