Dog Chained Up During Flood Gets Adopted By The Man Who Saved Her
<p>Troy E. Nehls<span></span></p>
Last week, this dog nearly lost her life - but in some ways, she actually did. Never again will she be alone, without a caring friend close by.
The dog was discovered by Sheriff Troy E. Nehls while he was out on an airboat assessing the damage caused by recent flooding in Fort Bend Country, Texas. Up to her neck in water on the front porch of a flooded home, she was clearly on the verge of drowning with no help in sight.
"The only thing we could see was her head above the water," Nehls told The Dodo. "I had a news crew with me filming the flooding, and I said, 'We have to get that dog out.'"
But it soon became heartbreakingly clear why the dog hadn't simply swum away.
Troy E. Nehls
"We maneuvered the airboat around to the front porch," Nelhs said. "The news reporter from [local NBC affiliate] KPRC, Mr. Archer, jumped into the water with another individual. They tried to get the dog out of the high water, but he wouldn't come. That's when we determined that he was actually tied to the front porch."
Fortunately, they were able to free the dog from the place where she'd been trapped, left to face the rising waters alone. Nehls brought the dog, now named Archer in honor of the reporter, to the Houston Humane Society where she was found to be in relatively good health.
Sure enough, however, Archer would soon be saved in another way as well.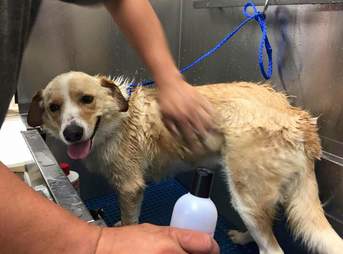 Troy E. Nehls
"On Sunday, my family went to the Humane Society to introduce ourselves to Archer," said Nelhs. "Then we made a family decision to adopt Archer. We took her home that day, and it's been wonderful ever since."
Troy E. Nehls
After Archer's story broke, thousands of commenters online expressed outrage at whomever left the dog tied up in the first place. KPRC later got in touch with the man who owned her, who said he had no idea the water would get so high. He'd attempted to return to the house, but was stopped at a checkpoint. Thing is, he never mentioned his chained-up pet.
"I think if we knew about the dog, law enforcement would have helped him," said Nelhs. "In the interview, he stated that he didn't want the dog back. He said that he just hopes the dog goes to a nice home. I don't know if he realized that the sheriff of the county adopted him."
Troy E. Nehls
Sheriff Nelhs was reluctant to say outright that he thought what Archer's former owner had done was intentionally cruel, but he was quick to note that she'll never know anything other than love again - and that she seems to sense as much:
"There's a bond this dog and I have now that will remain with us. She's not tied up to a front porch. Now she's in a home that is comfortable, she's sleeping on a bed and she gets constant attention from the family. I truly believe this dog has a new outlook on her life."