Happy Dog Has Some Of The Best Pet Parents Ever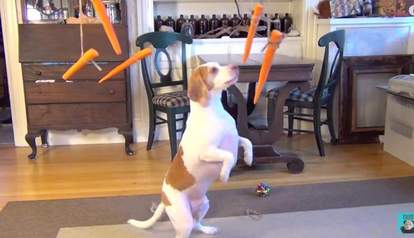 <p><a href="https://www.youtube.com/watch?v=gnnveIy78W8">YouTube/Maymo</a><span></span></p>
Maymo is clearly a smart dog, so to keep him on his toes, his humans devised this clever invention: the world's first flying carrot carousel.
At first Maymo is merely intrigued.
But soon he's determined to grab one of those magic flying carrots!
Maymo's gotta get creative if he wants the prize, so he hops up on the table.
Finally he grabs a carrot ... and now he's ready for a nap. This is the face of victory.
Watch the whole adventure here: