Dog And Cat Saved From Dirty Apartment Were 'Prisoners'
Despite all they've been through, they both love people.
To say that the dog and cat lived in squalor might be an understatement.
The Brooklyn apartment was filled with garbage - takeout containers, trash bags, bike parts and broken furniture. The carpet was covered in the animals' feces and urine. The whole place stank.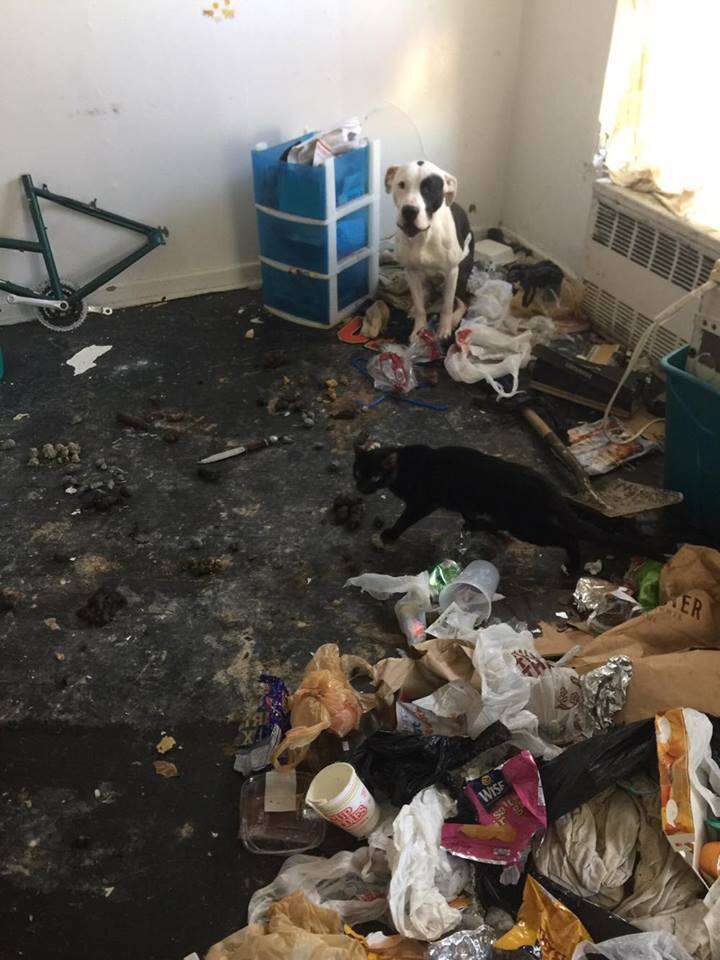 "You needed a gas mask to go in there - it was so awful," Stacey Silverstein, cofounder of Rescue Dogs Rock NYC, told The Dodo. "I've seen pretty much the worst of the worst. But this was pretty bad."
It would have been torture to stay in this apartment for five minutes. Yet Reggie (a 1-year-old pit bull and Great Dane mix) and Sylvester (a 2-year-old cat) had probably been living there for months, according to Silverstein.
"They were basically prisoners," she said.
Neighbors had known about Reggie and Sylvester for a while, but they hadn't been able to help them, even though they'd tried. The owner had reportedly been beating Reggie, and the neighbors called animal control multiple times. But according to Silverstein, animal control didn't do anything about it.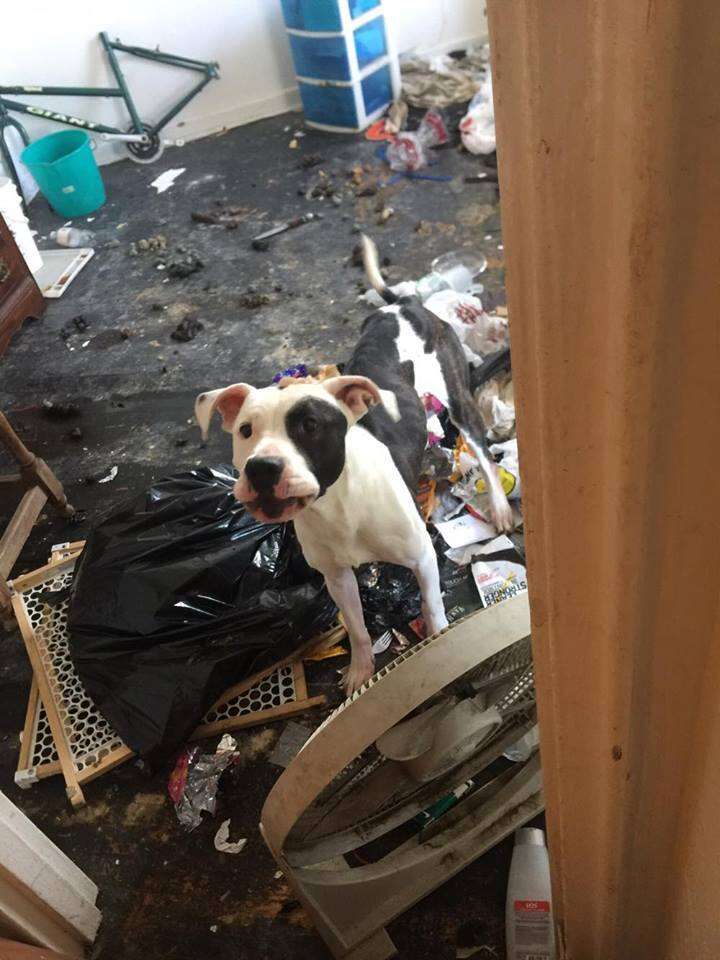 It wasn't until the owner was arrested earlier this week that Reggie and Sylvester got out.
"The [superintendent] opened the door, and he was feeding them," Silverstein explained. "They had called animal control, but one of the neighbors, who's one of our fosters, called us, and we stepped in."
Upon Silverstein's advice, the neighbor rushed Reggie and Sylvester to the vet. Both animals were in terrible shape - thin, malnourished, dehydrated. Reggie was at least 40 pounds underweight.
"Reggie was put on an IV right away," Silverstein said. "Sylvester the cat fared much better than Reggie. He's thin, but he's much healthier than Reggie."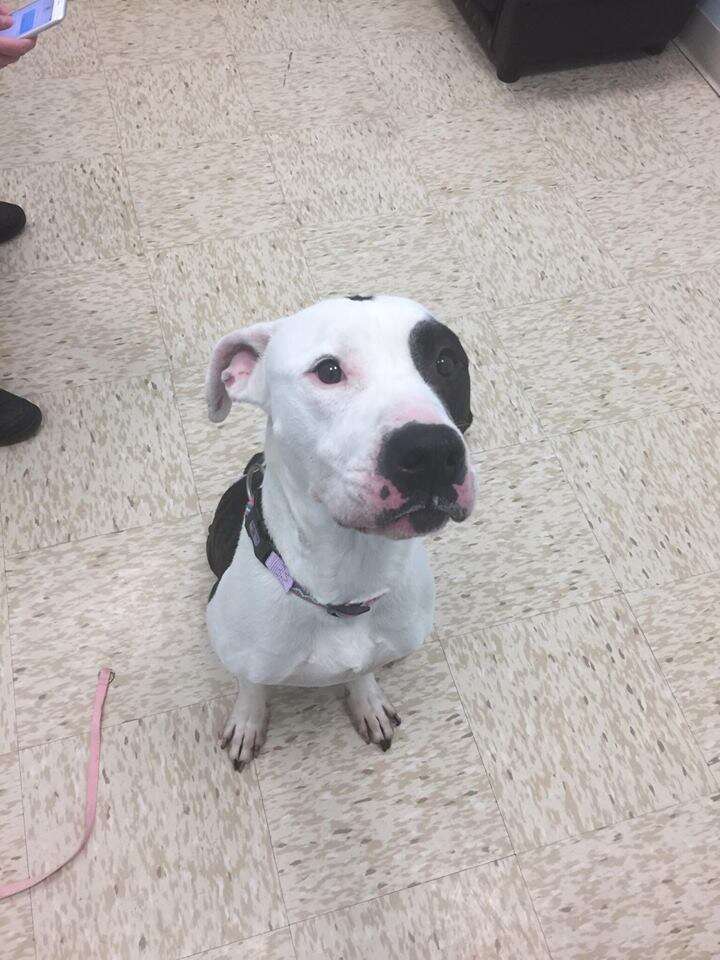 Despite everything they've been through, both animals seem to love people. "Reggie's very nice, very affectionate," Silverstein said. "Sylvester's a very social cat. He's got beautiful eyes, and he seems really mellow. He's going to make a great family pet."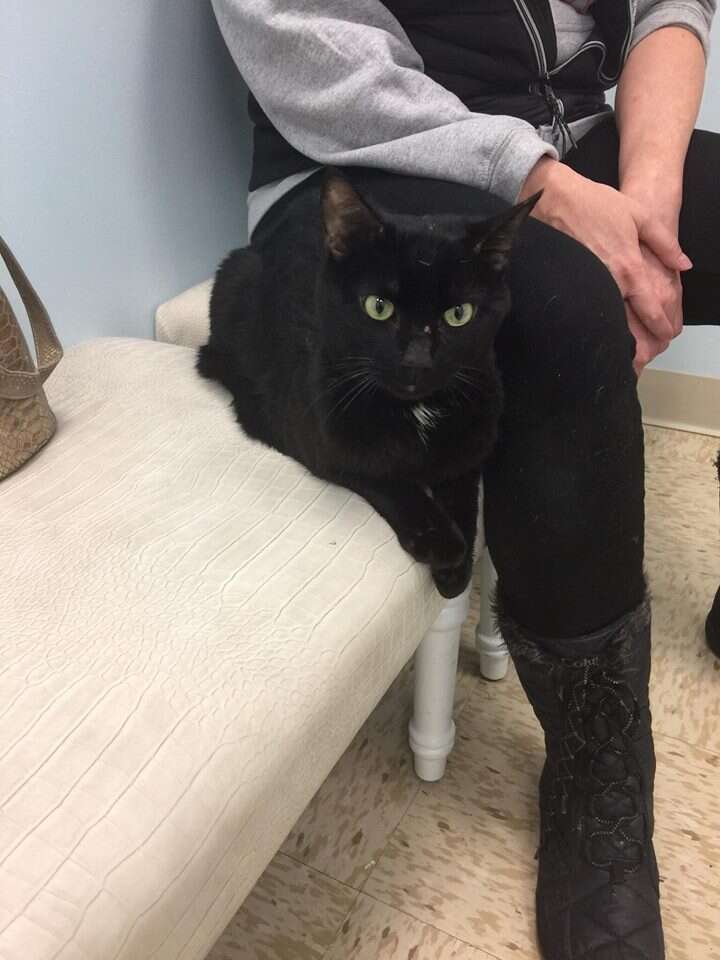 In order to care for the animals, a vet team had to separate Reggie and Sylvester inside the hospital. But yesterday, Silverstein and Jackie O'Sullivan, the other cofounder of Rescue Dogs Rock NYC, visited them, and made sure they got to spend time together.
"I've never seen two animals so happy," Silverstein said. "[Reggie] was licking the cat. He was very happy."
Silverstein expects Reggie and Sylvester to make a full recovery. They might even be moved to their foster home this weekend.
"They have a great foster home to go to when they're ready," Silverstein said. "Our intention is to keep them together. We think they deserve to be together. They're obviously fully bonded."
To help pay for Reggie and Sylvester's recovery costs, you can make a donation to Rescue Dogs Rock NYC here. If you're interested in adopting this duo, you can contact Rescue Dogs Rock NYC directly.