Dog, Cat And Rat Left At Shelter Together Can't Stand To Be Apart
"All three of them love to give kisses."
Put a dog, cat and rat together in the same room, and most people would expect chaos to ensue. Yet this exact combination of animals recently turned up at the Oshkosh Area Humane Society (OAHS) in Oshkosh, Wisconsin, and the three of them couldn't be better friends.
Sasha the dog, Jack the cat and Tweaks the rat were brought to the shelter by their owner at the beginning of March.
"They had to downsize their home, and they weren't able to take the three animals with them, so they brought them here," Cheryl Rosenthal, communications and education coordinator at OAHS, told The Dodo. "A lot of people would say, 'Why would you do that?' But not every place will accept pets, let alone three of them."
Upon arrival at OAHS, the animals had to get medical examinations. Jack was first in line. But when they took Jack into an examination room, his behavior quickly changed.
"He became very frightened and was growling and not very cooperative at all," Rosenthal said. "So one of the staff said, 'Why don't we try to bring the dog in?' And it was just amazing. As soon as the dog came in, he was like a totally different cat. He just became more relaxed knowing that his buddy was there."
After seeing how closely bonded Jack and Sasha were, the shelter staff knew they had to keep them in the same enclosure.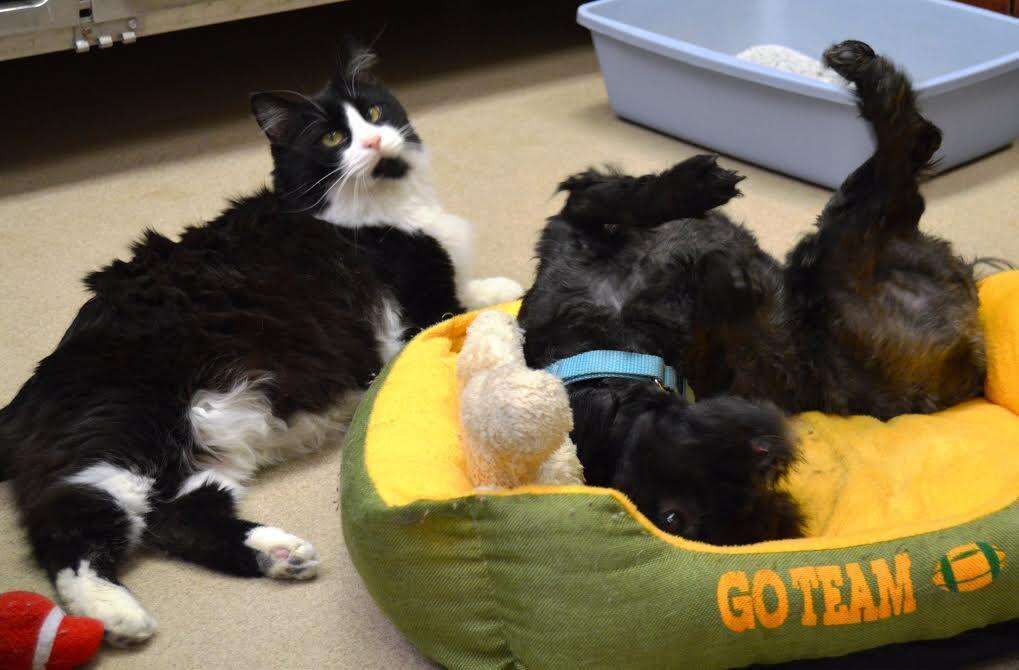 But they didn't forget about Tweaks - the former owner had told the shelter staff that all three animals got along.
"We thought, 'Well maybe we should bring the rat in,'" Rosenthal said. "So we did. We put the rat down, and right away the rat was running all over the dog, and going up and licking his face, and the dog was licking the rat. So it was like, 'OK - I guess they really are friends.'"
After kissing Sasha, Tweaks approached Jack.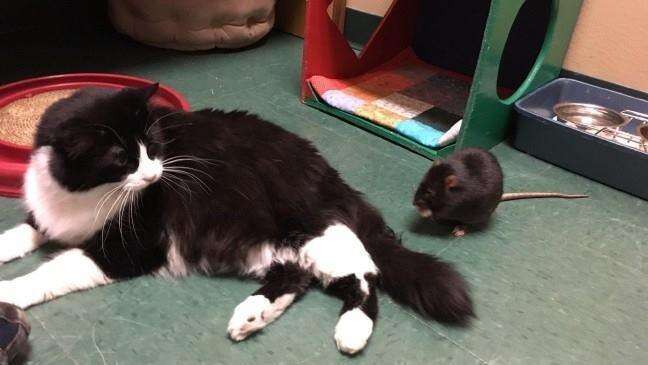 "The cat was sleeping, and Tweaks crawled up by the cat, and then went under his front paws and just laid there, like they were best friends," Rosenthal said. "It was pretty amazing."
Soon the shelter staff had a name for the trio - The Rat Pack. They loved watching them interact with each other, playing and cuddling and even sharing their food.
"All three of them love to give kisses," Rosenthal said.
The shelter staff wanted the animals to be rehomed together, but it took three weeks to find the right person to adopt them.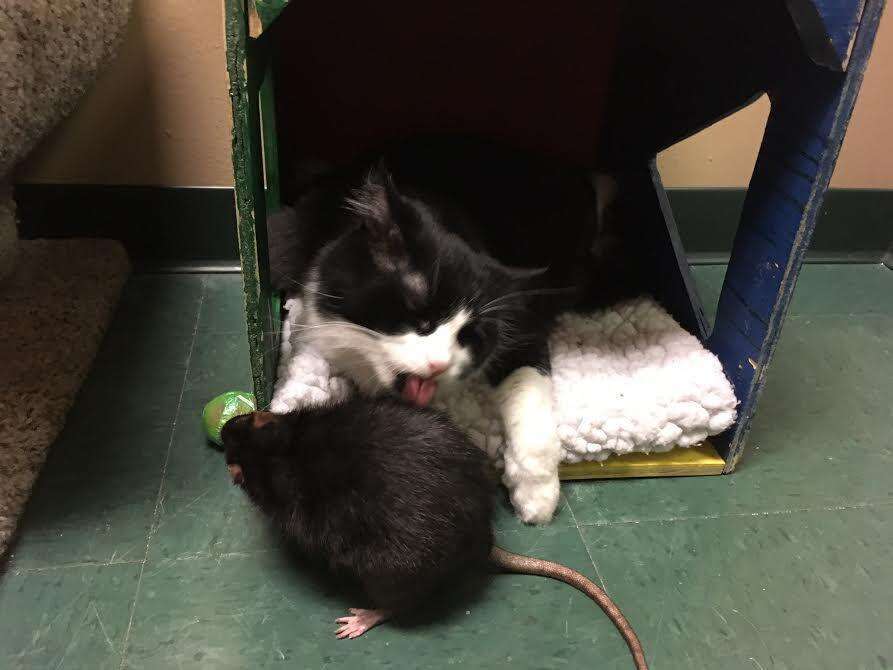 Then a woman named Kathy Berens and her daughter walked into the shelter - and into The Rat Pack's lives.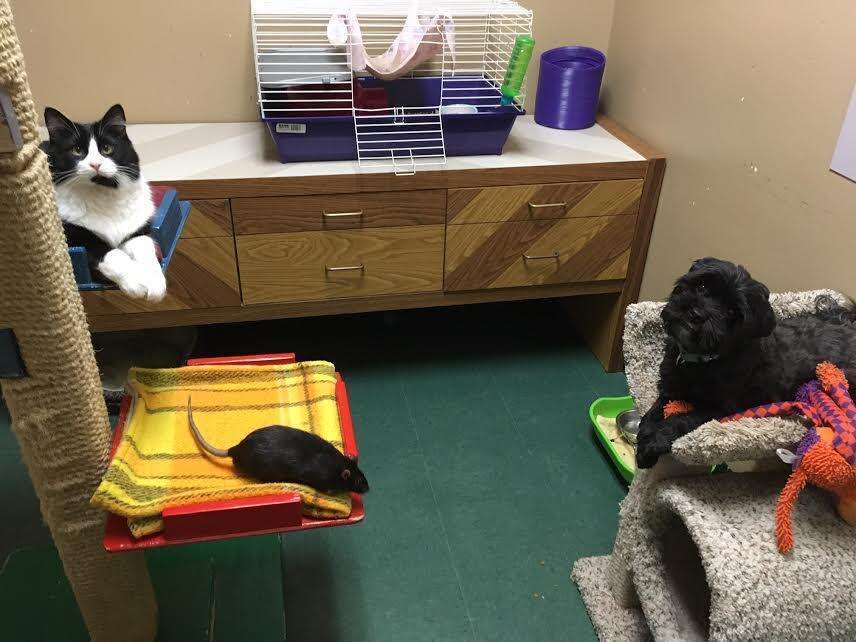 "They had adopted a cat from us, and they were thinking about getting another cat, but they also wanted a dog," Rosenthal said. "So Kathy kind of overheard some of our staff talking about Tweaks and Sasha and Jack, and she's like, 'This sounds like a ready-made family. This might be ideal for us.'"
It was Tweaks, however, whom Berens initially resisted.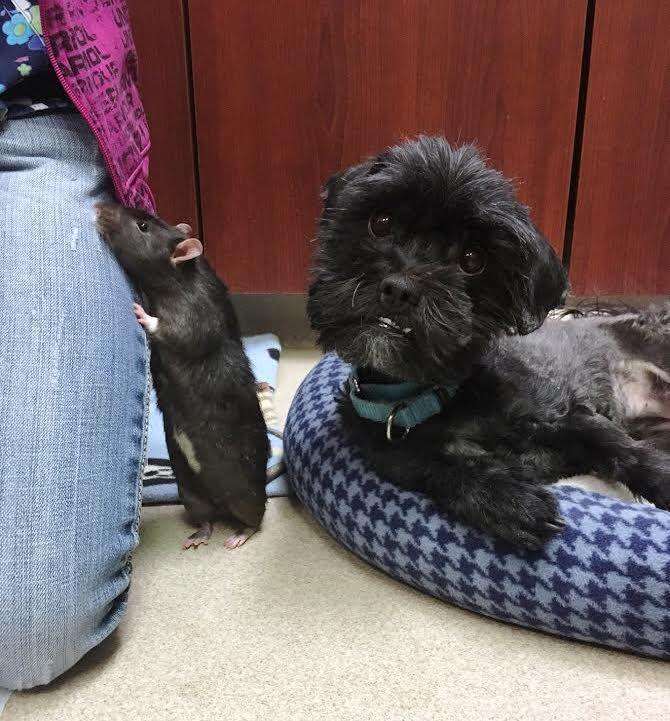 "She wasn't real sure about the rat," Rosenthal said. "A lot of people are pretty queasy around them."
But the shelter volunteers urged her to meet Tweaks.
"At first she said, 'No, no - I don't think I like rats,'" Rosenthal said. "But [the volunteers] said, 'You should really come in and meet him - he's really exceptional.'" And she did. She told me yesterday, 'I'm so glad I did, because after holding him, and knowing how affectionate he is, you can't help but fall in love with him.'"
Today The Rat Pack will be going to their new home in rural Wisconsin.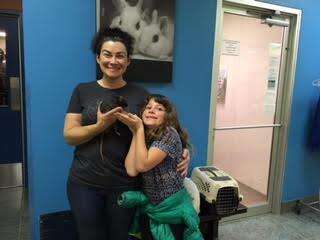 "They have touched a lot of hearts other than just mine and I am grateful and feel very privileged to be able to be a part of this," Berens told The Dodo.
The shelter staff is overjoyed that The Rat Pack found their forever home, but they're also going to miss having them around.
"For all of our staff, it's kind of bittersweet," Rosenthal said. "We've all gotten very attached to the threesome, but we're just very excited that they're going home."
To help OAHS rescue more dogs, cats and rats, you can make a donation.