Shelter Dog And Cat Only Want To Be Adopted Together
<p>LifeLine Animal Project<span></span></p>
<p>LifeLine Animal Project<span></span></p>
Four cats and a dog were brought to DeKalb County Animal Services in Georgia after their owner died. They were covered in fleas and in generally bad shape.
Upon arrival, the cats were taken to a special cat area, and the dog, dubbed Flearoy, was kept separately inside the shelter's foster office, because staff felt he needed a little extra attention.
A few days later, Brandi Crabtree, the shelter's foster coordinator, was taking Flearoy out to play when they passed the cat room, and he got insanely excited. He led her into the room and ran up to the cage where three of his cat siblings - Brandi, Kerry and Tracy - were being kept. He seemed so incredibly happy to see them again.
The three cats were adopted not long after, but the fourth, Andie, was still being treated at the shelter's vet clinic. When she was finally better, a staff member was carrying her back to the cat room - and that's when Andie saw Flearoy.
"They both just lit up and Flearoy started licking Andie and wagging his tail so hard that his whole butt wiggled," Karen Hirsch of LifeLine Animal Project, which manages Delkalb County Animal Serves, told The Dodo. "Andie began licking him back and purring."
The staff decided that the two best friends shouldn't have to be apart any longer, so they let Andie stay in the office with Flearoy.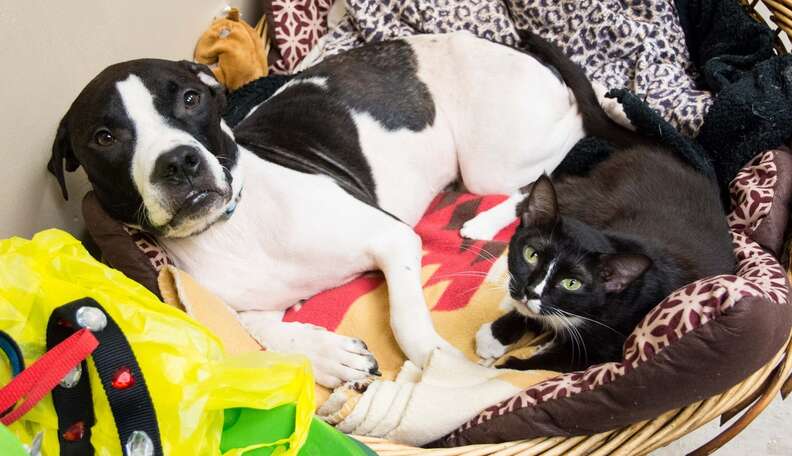 "They snuggle constantly," Hirsch said. "Andie likes to play with Flearoy's ears and tail, and Flearoy lets her. Flearoy is very comforted to have Andie around. They are two peas in a pod."
After finally being reunited, the pair caught another lucky break, and were recently brought into a new family ... together. Flearoy and Andie were adopted by a woman named Ali Carter, who already had another dog sibling waiting for them.
"Their new owner thinks they're wonderful," Hirsch said. "They've adjusted quickly and they keep her entertained all of the time."