Dog Spotted Chained To Back Of Truck — And It's Totally Legal
"A happy dog has a big smile with his tongue hanging out, but that dog looked so terrified."
While Zeus was lightly tethered to the cage, nothing would have protected him from plummeting to his death.
A woman named Brenna Cronin was driving on the same highway with her boyfriend when they spotted Zeus. She grabbed her phone and started to record.
"We both just felt so bad for him," Cronin told The Dodo. "When that dog saw me looking at him, he actually stood up and looked right into my eyes. I think dogs' eyes speak a lot about their feelings, and he just looked so sad, and it really broke my heart."
Two other dogs were inside the cage that Zeus was standing on, according to Cronin. She and her boyfriend also noticed that Zeus had the letter "S" branded on the back of one of his legs. "We thought that was so odd," Cronin said.
Most likely, Zeus had been branded for hunting purposes, which is sometimes done in the United States. "Branding is incredibly cruel, and if someone was doing that to any dogs we would demand they be arrested for animal cruelty," John Goodwin, senior director of the Humane Society United States (HSUS), told The Dodo. "It isn't common. But I won't be surprised if someone is doing that."
Cronin's video went viral on Facebook this week, and it prompted an official investigation by Flagler County Animal Services and the local sheriff's office in Flagler County, Florida. The owner was taking his dogs on a hunting trip, and didn't think he did anything wrong by chaining Zeus on top of the cage, according to a local news report.
"When I let him out of his concrete kennel, which he stays in, he jumps on top," the owner told WJXT-Channel 4 (Jacksonville). "So, I put a strap on there because that's how he likes to ride. If I would let him, he'd ride on the top of my truck. He does not want to get into the box. That's the way he likes to ride."
Cronin had a different take. "A happy dog has a big smile with his tongue hanging out, but that dog looked so terrified," she said.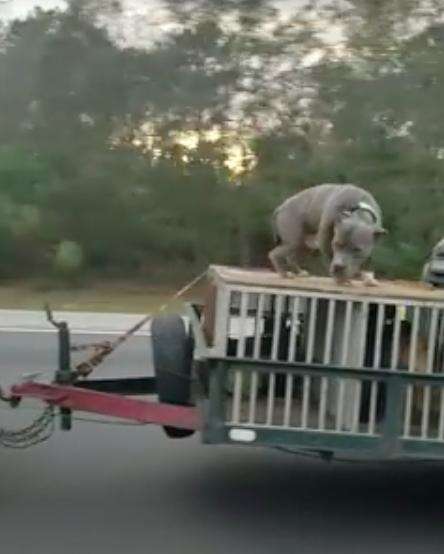 But, what Zeus' owner did wasn't actually illegal in Florida, nor is it considered an act of animal cruelty in the state.
However, Zeus' owner did get a ticket. The ordinances of Flagler County require that people tether their dogs two times if riding in the back of an open vehicle, but the man had only tethered Zeus once. "He got a ticket for this," Jeffrey Ritter, the development coordinator for the Flagler Humane Society, told The Dodo. "But if he would have had a second tether on the dog, he wouldn't have faced a ticket or anything."
It's estimated that 100,000 dogs die each year by riding in the back of open trucks, according to American Humane. Even if a dog is tethered, they might try and jump if they're scared.
But there is hope that things will change. A new bill was recently introduced in Florida that would require all people to secure animals in containers or safely tether them on vehicles. Other states have more progressive laws in place already. For instance, a California law limits drivers to one dog in the back of a vehicle, if the dog is secured in a cage or cross-tethered to prevent the animal from jumping out.
"We are hopeful that there will be something done on a state level to insure that dogs riding in the back of pickups are secure and safe," Kate MacFall, Florida state director for HSUS, told The Dodo. "It's a sad situation. Fortunately, the animal was OK, but nobody should put their animal at risk."