Dog Brothers Separated As Puppies Find Each Other Months Later
Finnegan and Murphy, two Boston terrier and pug mix puppies, were separated when they were just 8 weeks old in September 2015.
Born to the same litter in Mississippi, Murphy was eventually adopted by a friend of his owners, and Finnegan was rescued by Southern Paws shortly after and taken to New Jersey to be adopted.
A woman named Erin Ryan found Finnegan online when he was listed for adoption and absolutely fell in love. "My two older sisters and I moved into an apartment together and decided that after waiting all of our lives, we were finally ready to get a puppy," Ryan told The Dodo.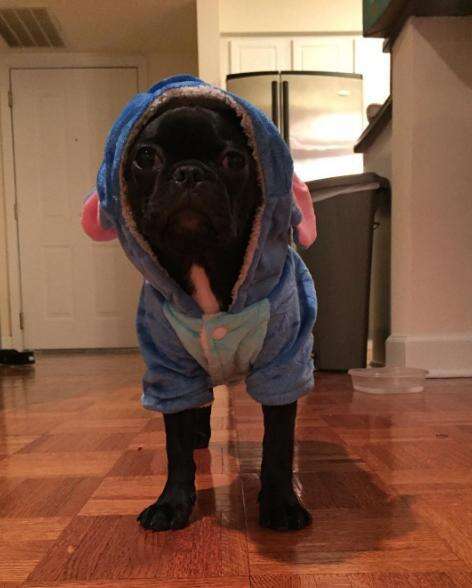 A few months later, Ryan moved back home, 30 minutes away from Finnegan, to go to graduate school and desperately missed having a puppy around. While she and her mom considered getting another dog, Southern Paws was looking for a family to adopt a Boston terrier and pug mix puppy - who turned out to be Murphy.
"From what we understand, Murphy's original adopters could not care for him and had too much on their plate already, and had to put him up for adoption," Ryan said.
Ryan and her family realized Murphy was Finnegan's brother after contacting the rescue and immediately requested to adopt him, and the brothers were reunited in early February.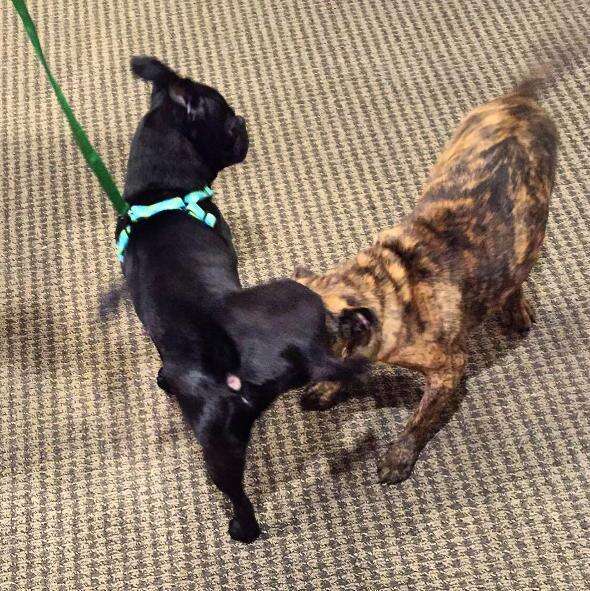 "People always ask us if we think they remember each other or if we think they know they're brothers," Ryan said. "They took to each other so quickly and are the best of buds, we like to think it's because they know they belong to each other and that they remember each other!"
Finnegan and Murphy live in separate houses about 30 minutes apart, but still see each other constantly. Even after being separated for the first part of their lives, the pair adores being together and acts as if no time has passed.
"They get along incredibly and love being together," Ryan said. "They even insist on sharing a crate at night when Finnegan is visiting home, or else they cry until we put them together."
Despite being brothers, Finnegan and Murphy are definitely different, and have very distinct personalities.
"We call Finnegan our cat-dog. He is much more gentle than Murphy and is also smaller, we think he must be the runt of the litter," Ryan said. "Murphy is our dopey puppy. He's much more adventurous than Finnegan."
Murphy definitely understands the art of causing mischief ...
... and even though Finnegan is a little calmer, he definitely likes to get in on the action, too.
The boys spend a lot of time playing together ...
... and rolling around together ...
... and just being together.