Dog Comes To The Rescue Of Owner Stranded Without Toilet Paper
"He was such a good boy."
Like all very good dogs, Ozzy is always there to offer his pleasant company, bringing smiles with a wagging tail — but the pup's faithfulness was recently put to the test when he was called upon to deliver something even more important (at that moment, anyway).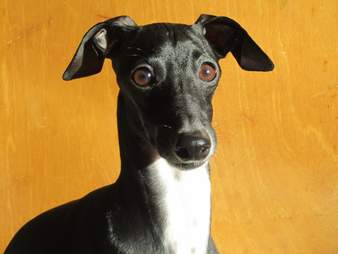 Ozzy and Co
Ozzy's owner, named Sabina, shared the oddly touching tale about an occasion during which her dog saved the day.
She was at home with her boyfriend when nature called upon them both at about the same time. Luckily, the couple have two bathrooms, so they retired separately to take care of their respective business. Only problem was, Sabina had failed to notice that her choice of bathrooms wasn't equipped to handle the task.
"When I was done I realized there was no toilet paper," Sabina wrote in a post online. "I yelled to my [boyfriend] that I needed paper, but he couldn't get up. So he asked Ozzy to come see him, and asked me to call him back. This photo is Ozzy that rescued me."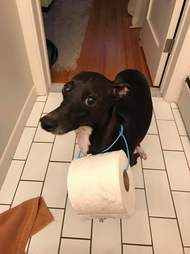 Ozzy and Co
Like a trooper, Ozzy had brought his stranded owner the roll of toilet paper Sabina's boyfriend had secured to him with a phone charging cable.
"The funny thing about my dog is whenever I put something on him, a bandage or whatever, he freezes!" Sabina told The Dodo. "But this time he was such a good boy."
Still, Ozzy might have found the whole situation a little awkward.
Ozzy and Co
For his loyal service in his owner's time of need, Ozzy was rewarded with plenty of treats afterward. But despite the discovery of his newfound utility in her life, Sabina said her dog apparently isn't quite ready to embrace the role of full-time delivery pup:
"I tried to make him bring wine," she joked. "Fail."
Ozzy and Co