Lucy the pug is constantly in the way. She loves us so much that she always wants to be right next to us, on our feet, in our personal space. She sits in front of the cabinets you want to open, and she stands right under the stove as you're trying to cook. She has a bed in the kitchen; she'd rather be snuggling up against us at all times, loving on us and waiting for food at the same time.
It used to be a habit of ours to gently move Lucy out of the way with our feet in an attempt to not accidentally step on her. Just a little nudge to move her to the side, an affectionate tap. She never seemed to mind, and we never thought much of it.
My youngest brother's name is Will, and he has nonverbal autism. I'm not sure when it started, but he went through a phase where, every time he saw Lucy, he would kick her. I know, I know. Before you rush in and take Lucy away to safety, I assure you she's 100 percent fine. He never did it hard and she wasn't hurt, but still, a fairly big problem, obviously. My mom was horrified, wondering where this awful behavior could have come from - until she realized it was totally our fault. Will had taken our loving gesture and tried to do it, too.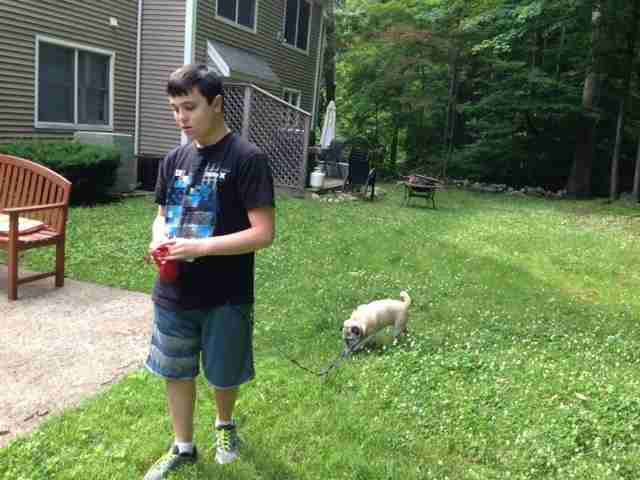 It's not something we would we ever think might be a problem. With autism, there's a lot going on, and it's hard to anticipate what's going to happen next, what could be an issue. It's always an adventure, to say the least. Somehow, our goofy, loving pug has taught my family and me so much more about autism, and the patience that comes with it, than we ever could have realized.
Will is severely affected with autism. He's now 14 years old, and he can't talk. His understanding is limited, and he's extremely medically challenged. He's the love of my life, a blessing in our family, and loving him is a constant learning experience. We all know what makes Will different, but you can't really explain that to a dog. Luckily, we never needed to.
To a tiny animal like Lucy, Will could seem kind of scary. Because he can't talk, his only volumes are loud and louder as he shouts sounds that echo throughout our house. He runs around like a tornado, unpredictable. He's a gigantic sweetheart, but to a tiny dog, he could be a lot to handle. Lucy has never been afraid.
When we first got Lucy, both she and Will were small and unpredictable. No one knew who either of them would grow up to be. Lucy ended up with a bark that didn't really work, and Will ended up with autism.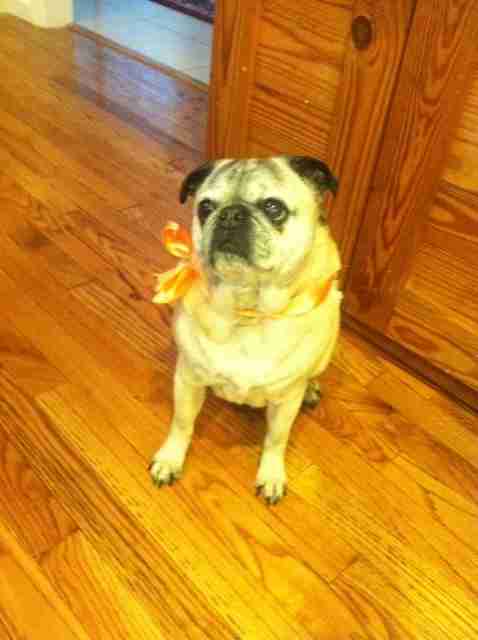 Will didn't entirely understand the concept of Lucy at first. She was a furry ball of energy that ran around his feet, adorable and fun. At first, in an attempt to pet Lucy, he would grab her fur and squeeze because he was so excited to see her. We had to teach him, "Gentle with Lucy. Be gentle. Gentle, gentle, gentle." He would touch her lightly, cautiously, as we praised him. Even if he didn't really understand why he had to be gentle, he would still start to associate "pet the dog" with "gentle," wanting our smiles and praise. As the years went on, we used this reminder, be gentle, to apply to other things, too. Be gentle when you're hugging people, be gentle with that toy, be gentle to yourself. Lucy assisted with this helpful reminder, this good behavior.
When Will was younger, he developed a love for dog beds - regardless of whether Lucy was in them already or not. You might say he liked dog beds more than he liked any other soft surface in the whole house. He would go flying across the room, laughing wildly, and before Lucy had a chance to flee, he would be on top of her, snuggling into the bed with her despite there being very little room. And what would Lucy do?
Nothing. As he laughed and rolled, she licked him and stayed there until he was done. She never bit him. She never barked. She was patient. She was more patient than I was sometimes. Lucy knew what Will needed. Lucy knew how to live alongside him.
Somehow, Lucy has always known how Will needs to be loved.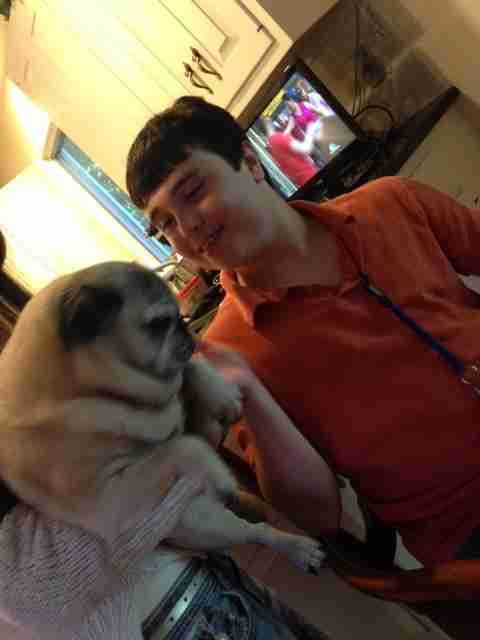 When Will started having seizures, sometimes the closest soft surface was Lucy's dog bed. I would wake up in the morning to the commotion and find him in the kitchen, lying on Lucy's bed, helpless and surrounded by people there to help him. Before any of them got there, before the ambulances and the EMTs and the 911 call, before we had even identified what kind of seizure it was and what he would need, Lucy had already helped him. As soon as Will's body gently touched down on Lucy's bed, she was there for him. In that way, she kept him safe even when she couldn't do very much at all. She was still there.
They say dogs can sense when someone needs a little extra help - when someone needs protecting. Lucy is small, and Lucy is a goofball, but Lucy is also one of Will's protectors.
Will and Lucy have an interesting relationship, and it's definitely not perfect. Sometimes you might say it's mutually beneficial. Lucy agrees not to get in his way, and Will agrees to toss her any food he doesn't want. Ever since I can remember, Will has picked up a piece of food and, with a fast appearing smile, tossed it under the table or across the room to where Lucy is always waiting.
Mom yells at Lucy and Will screeches with laughter and Lucy scurries away with her prize in her mouth - things are frenzied, but they make sense. Will and Lucy won't always agree, but they're there for each other when it counts, in whatever way they know how. They're the pet and owner combo you never expected, that can never be replicated, with a bond that can never be broken.