He Doesn't Know His Family Is Never Coming Back For Him
There's a dog living in a cardboard box on a Miami street corner.
He was dumped there on Sunday. He's braved chilly conditions. He's shivered through a drizzle of rain.
Locals say he seems like he's waiting for his owner. If it's the same owner who dumped him there, good riddance.
Julian Rovito
Julian Rovito
It may be hard to see right now, but this dog - despite the torrent of misfortune that led to being dumped here - is in the right place. At least, the beginning of the right place.
The people who live around 10th Avenue and North River Drive believe it takes a community to save a dog.
"Someone just dumped him there with blankets and water in a plastic bowl," resident Julian Rovito tells The Dodo.
Julian Rovito
Julian Rovito
Then someone from the neighborhood put down a box. Then a tarp. The dog crawled into the box. Still waiting, apparently, for the owner who will never return.
Sunday was a cold night. Neighbors hoped to coax the dog indoors. When they got close, he would growl or run away.
"We didn't want to stress him," Rovito explains. "So we put a lot more blankets in there."
Despite having no formal experience as a rescue, this neighborhood has been down this road before. Tenth Avenue and North River Drive butts up against a district known as Overtown, once notorious for drugs, crime and dog fights. It's still considered one of the poorest neighborhoods in the U.S.
And every now and then, a brutalized dog wanders into Rovito's neighborhood.
Like Charlie. A refugee from the fighting ring, Charlie showed up one day in 2014, his flesh lacerated, his soul shattered.
"He kind of wandered into the neighborhood with his neck and body all ripped up," he says.
Rovito and his neighbors started caring for Charlie, taking him to the vet, feeding him, giving him a place to sleep.
"Everything's out of pocket for us," he adds. "We're just dog lovers. We don't get donations or anything."
Just weeks later, a doctor in the neighborhood adopted Charlie.
CharlieJulian Rovito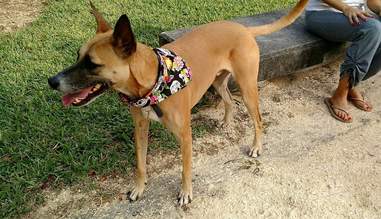 Charlie

| Julian Rovito
"I see him all the time," Rovito says. "I walk him for the owners."
Today, the dog-with-no-name is still sitting in that box, clinging to a dream of a long-gone owner.
"We go out there every day," Rovito says. "We're feeding him. We're trying to get him to trust us. The next step is to get him a crate. Put him in there and take him to my vet."
Calling animal control, he adds, is out of the question. There's a sense in the community that a shelter is where bad things happen to good dogs.
Certainly, the shelter system is overtaxed, resulting in many dogs ending their days in their cold confines. Nearby Miami-Dade Animal Services is one of the most bustling, where animals are often seen tied to a gate outside the complex. It seems no one has time even to fill in the paperwork.
"Every time a dog has appeared in the neighborhood, no one has called animal control," Rovito explains. "We try to solve our problems internally."
But for all this community's collective compassion, they will need help from people who rescue dogs for a living.
"None of us are professionals," Rovito says. "We need people to help us with potential fosters. We're willing to help with vet bills and stuff like that. We're all dog lovers."
Julian Rovito
Julian Rovito
Residents have called local rescues. But as of yet, no one has called back.
Lisa Fleming, who has rescued animals independently, is about about 125 miles away, in Naples, Florida. Although she's in contact with Rovito, she desperately wishes she could help.
"I'm just in tears with what's happening there," she tells The Dodo. "Not one rescue has called back. It breaks my heart."
Let's get this neighborhood the help they need. So this dog with no name can come out of his box.
And get all the love his world has long been missing.
Can you help?
Reach Julian Rovito at jrovito11@gmail.com.
The neighborhood has also set up a GoFundMe page to help with the dog's veterinarian bills. You can make a donation here.