People Help Sick Dog Get To Vet In Makeshift 'Ambulance'
Now he's back to his old self.
When Dr. Tjarda Reints Bok finally reached the sick dog, she thought it was too late. It was September 2013, and Escot, a 4-year-old Lab mix, had been poisoned. He lay in front of his owner's grocery store on the island of Isabela in the Galapagos Islands, looking like he was ready to die.
"Escot was already starting to shake," Reints Bok, a volunteer vet with Darwin Animal Doctors, a veterinary clinic and animal welfare organization, told The Dodo. "I was very worried. Normally when they start shaking, we can't get them back. It's sort of the point of no return."
Escot had been poisoned with organophosphates, a kind of pesticide that attacks the nervous system, Reints Bok said. On Isabela, as well as other islands in the Galapagos, some people view dogs as pests, and some people will even put out poison to try and get rid of them, Tod Emko, cofounder of Darwin Animal Doctors, told The Dodo.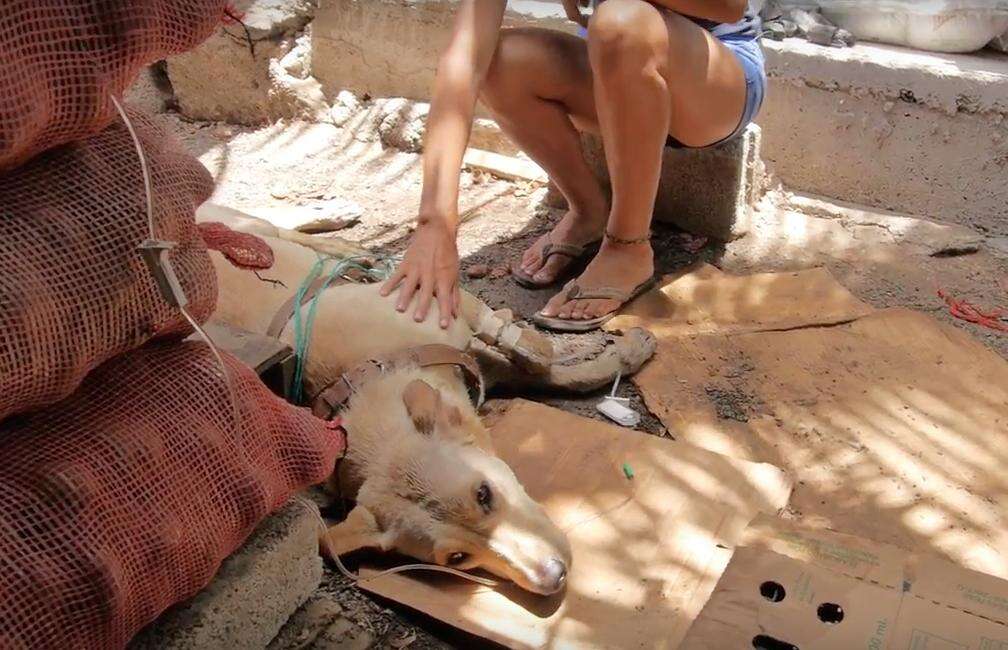 "There's zero education on poison and other deadly substances widely available in the Galapagos, so people put them out to solve 'pest' problems of all kinds, not knowing how to safely distribute a deadly poison that would potentially poison the environment and kill any human or animal that eats it," Emko said.
"People don't want any dogs there because they can pose a threat to the wildlife," Reints Bok said. "They just roam the beaches and don't walk on leads, which is a big problem there. Around Isabela, [local people] place poison around the edges of the national park, and around the edges of the outskirts of the village."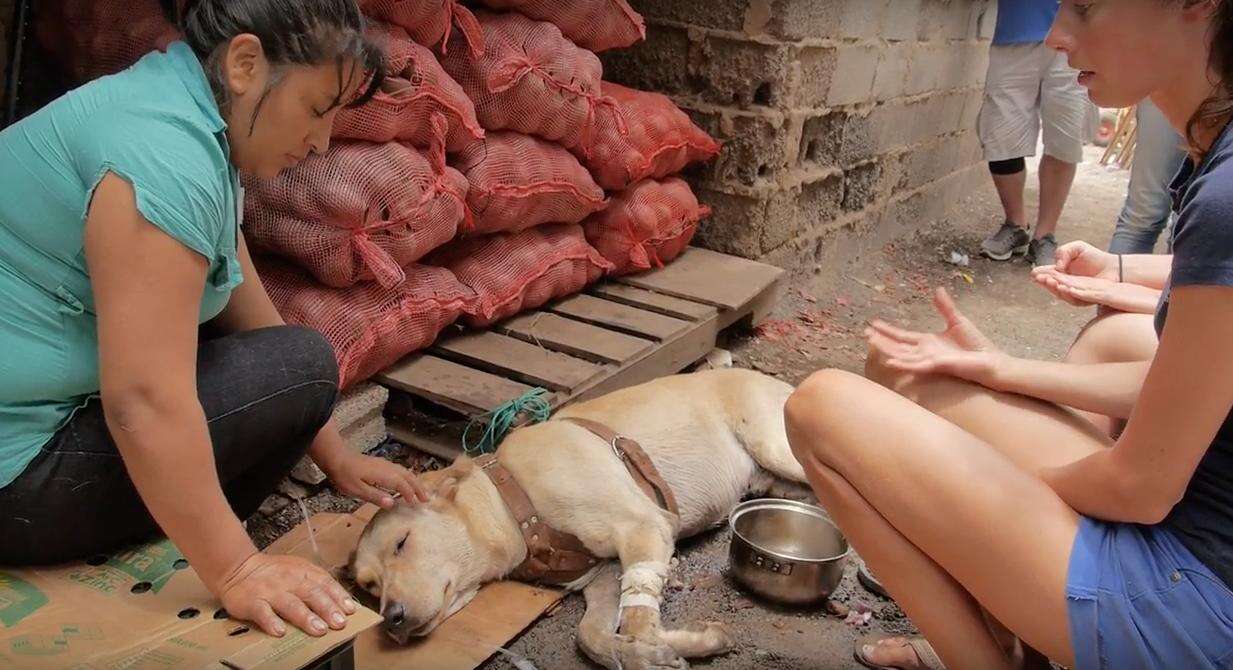 Reints Bok believes Escot roamed around that morning, ate some poisoned meat, then returned to the grocery store and collapsed.
Escot's owner had rubbed olive oil all over the dog's body, hoping that would help. "In the Galapagos, they believe oil's a remedy for that kind of toxin, but it doesn't work," Reints Bok said.
What the oil did do was make it nearly impossible for Reints Bok to get a catheter into Escot so she could start administering fluids. "In the end, I used duct tape to tape the IV catheter," she said.
Once the IV was in, Reints Bok started flushing the poison out of Escot's body with a drug called atropine, as well as activated charcoal.
To her amazement and great relief, Escot started to get better. But he wasn't out of the woods yet. Reints Bok wanted to get the dog to Darwin Animal Doctors' clinic, which was about a mile away. Getting a large, heavy dog there would be tricky.
Escot's owner quickly found a solution. "He said, 'Oh, we can use the bike,'" Reints Bok said.
The owner was referring to a three-wheeled bike used for delivering groceries. For Escot, the bike would be his ambulance.
Reints Bok helped load Escot onto the bike, then hopped on herself so she could continue holding his IV. The owner pushed and steered the bike. One of the owner's sons had just gotten home from school, Reints Bok said. He was so worried about Escot that he hitched a ride on the bike, and constantly pet Escot's head to try and keep him calm.
"It was very wobbly!" Reints Bok said.
Maybe Escot knew he was getting the help he needed because he continued to perk up. "He became more alert on the bicycle," Reints Bok said. "He started sitting up."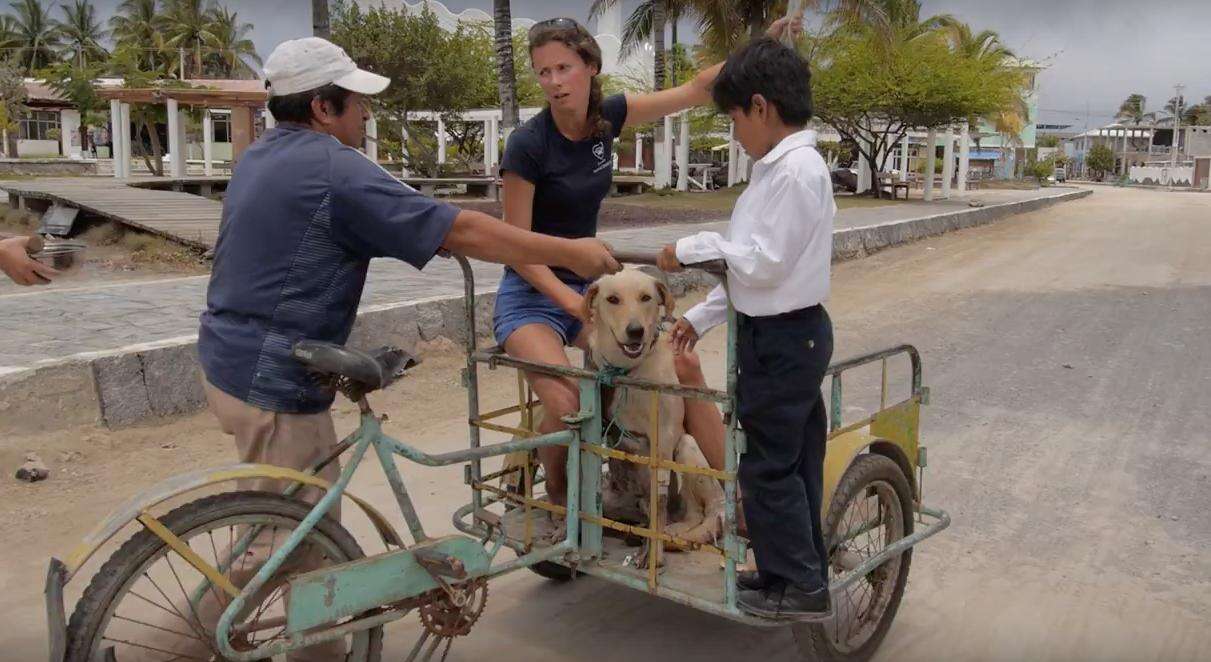 When Escot safely arrived at the clinic, Reints Bok gave him more charcoal, mixing it in food so he could eat it himself.
By the end of the day, Escot had fully recovered, and he even got to go home.
"The same evening, I went to the store to see how he was doing, and he started barking and growling - his normal behavior," Reints Bok said. "And I thought, he's back and better, and back to his old self again."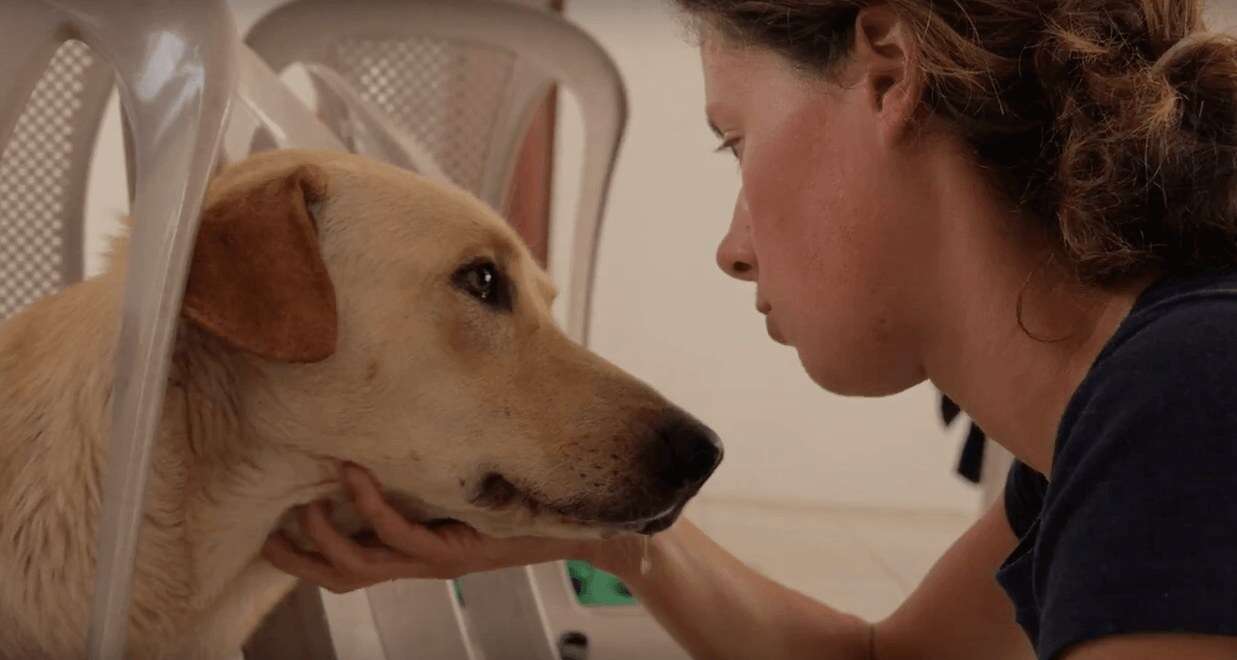 Darwin Animal Doctors runs the only year-round, full-time, free emergency clinic in the Galapagos Islands that treats domestic animals like dogs and cats, as well as wildlife. To support this organization's work helping animals, make a donation.