BFF Dogs From Viral Photo Find A Forever Home — Together
<p> <a href="https://www.facebook.com/MaricopaCountyAnimalCareandControl?fref=photo">Facebook/Maricopa County Animal Care & Control</a><a href="https://www.facebook.com/MaricopaCountyAnimalCareandControl?fref=photo"></a> </p>
The heartwarming friendship forged between two down-on-their-luck dogs will be allowed to flourish for years to come - all thanks to rescuers who required that the unlikely best friends be adopted together.
Buster, a boxer, and his chihuahua pal, Little Miss, were brought to safety earlier this month after they were found wandering the streets together with no owner in sight. Staff at Maricopa County Animal Care and Control in Arizona say the pair has been inseparable ever since, reports azcentral.com.
In fact, Buster and Little Miss had even created their own nap time tradition, with the bigger dog allowing his smaller friend to climb upon his back to sleep.

Melissa Gable/Maricopa County Animal Care and Control
The shelter did its best to track down whoever might have owned the dogs, but sadly nobody came forward to claim them. Still, it quickly became clear that Buster and Little Miss were far from unwanted.
A photograph of the dogs in their sweet sleeping position quickly went viral after being shared on Facebook, leading to countless inquiries from people wanting to adopt. At the shelter's insistence, however, anyone interested in the dogs would have to take them both, lest their beautiful bond be broken.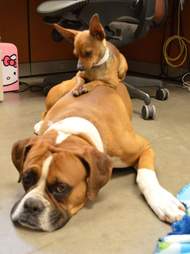 Melissa Gable/Maricopa County Animal Care and Control