Do Dogs Get Anxiety Just Like People?
Humans aren't the only ones who suffer from anxiety - dogs do too. But unlike humans, dogs can't say what's wrong. They can only express their anxieties through action and body language.
A dog's anxious behavior usually occurs for a reason, but how can you tell if it's something harmless or indicative of a bigger problem? It's up to you to recognize when something is really off and figure out a plan of action.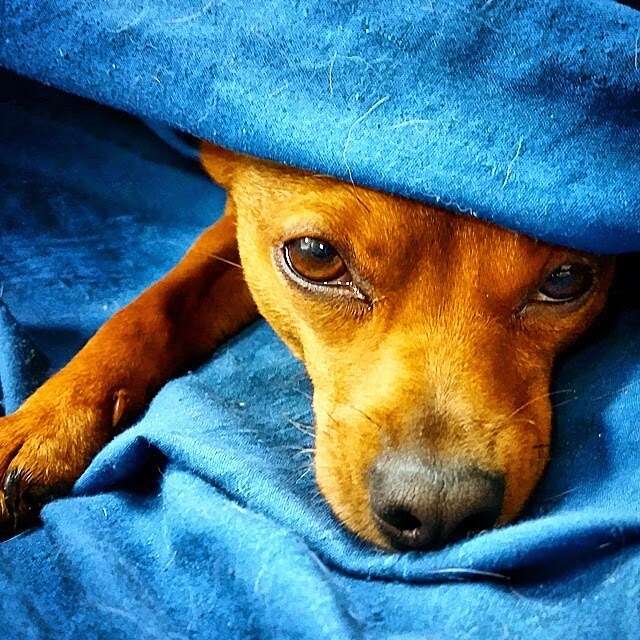 What are the symptoms of anxiety in dogs?
"In general, anxiety is the fearful anticipation that something bad is going to happen soon," Jill Goldman, Ph.D., a certified applied animal behaviorist, told The Dodo.
Anxiety in dogs induces behaviors that are usually fairly noticeable. When there's a storm, your dog might begin to shake when she hears thunder. Or if going to the vet causes anxiety, she might pee or poop on the floor.
In addition to more troubling symptoms like shaking, trembling, urination, defecation and panic attacks, other signs may be panting, increased vigilance or just attentiveness - like if your dog happens to be watching you very closely.
What causes anxiety in pets?
"Anxiety can stem from an internal or external stimulus," Goldman said.
Whether this behavior is something to be worried about depends on the severity and the frequency. If it happens once, it's probably no big deal. But if it's recurring and clearly distressing for your dog, it's time to consult an expert.
But what is it that creates anxiety in our pets? According to Dr. Jill Sackman, a senior medical director atBluePearl Veterinary Partners' Michigan hospitals, it may be the same things that trigger human anxieties.
"Dogs experience anxiety in new and overwhelming situations, like visiting the veterinarian's office (white coat syndrome) or being boarded in a kennel away from home and separated from the things that are safe and familiar," she told The Dodo.
Some dogs also experience anxiety when they meet other dogs and new humans, especially children and men.
"Men tend to be taller than women and have deeper voices, and this can cause some dogs anxiety if they do not know the person," Sackman said. "Children run quickly and have high pitched voices, which for some dogs is very scary."
"Some dogs are scared of loud noises, especially firecrackers and thunderstorms," she added.
Like my dog, Riley, who bolts into the closet and hides under my clothes any time she hears a loud noise.
JILL LAYTON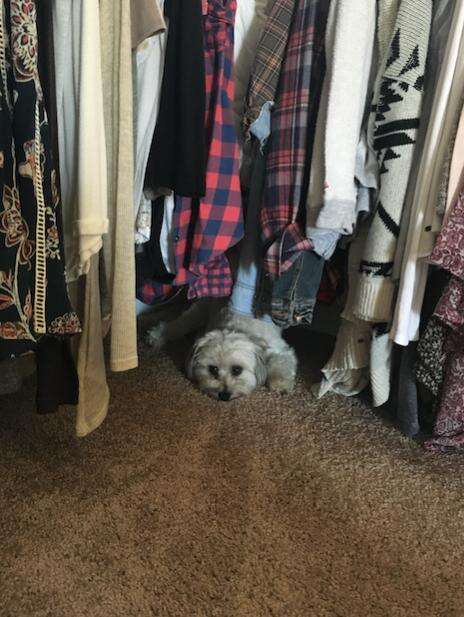 "Dogs may also experience separation anxiety when left alone," Sackman said. "With separation anxiety, dogs left alone may destroy things in the home, bark and whine and forget their housebreaking training."
They're not being "bad" dogs - they're simply trying to cope with the overwhelming anxiety.
When is anxiety normal, and when does your dog need help?
A dog's anxiety can prevent her from playing with other dogs, going on walks and eating, and enjoying other important everyday activities.
Dr. Erika Loftin, veterinarian and critical care specialist at DoveLewis Emergency Animal Hospital, says if your dog's anxiety is interfering with her daily activities, you may need to find professional help.
"There are several options for pet owners whose pets are experiencing anxiety, which include behavior modification, such as desensitization and counterconditioning, distraction and redirection, and others," she told The Dodo.
Food or treats can be used as counterconditioning. When something happens that makes your dog anxious, pair that event with something pleasant like treats.
Belle would get anxious during storms, but being wrapped in a towel calmed her.FLICKR/TOM NEWBY
"It's important to recognize that anxiety, and the particular source or type of anxiety, can sometimes be difficult to diagnose, and to work closely with your regular veterinarian to find the appropriate course of action for your pet," she said.
Other than professional help, there are other options to try as well.
"Sometimes a ThunderShirt or anti-anxiety medication can be helpful adjuncts to behavior therapy treatment plans," Goldman added.
"Frankie starts to shake uncontrollably at even the lightest sprinkle. The compression of the ThunderShirt helps to make her feel safe and secure," her owner Heather Adair told The Dodo.HEATHER ADAIR
So if you think your dog is suffering from anxiety, chances are ... you're right. Getting him the help he needs will allow your dog to worry less about the scary things and focus more on the fun things.