Dog Finds A Lost Baby Bird And Decides To Be His Dad
This baby's bird life got off to a rough start. But thanks to the kindness of a gentle dog named Rusty, he's been blessed with the chance at a new beginning - and an unlikely new friend.
Rusty's owner, Jurgita Peciulaityte, was at home in her woodworking shop last week when she heard the 2-year-old boxer calling out to her from their garden. It wasn't a boisterous sort of bark, says Peciulaityte; it sounded more curious than threatening. So, she decided to step outside to investigate. Rusty didn't budge.
"That's when I realized he'd found this baby bird," Peciulaityte told The Dodo. "He must have fallen out of a tree, so I picked the him up and right away he opened his mouth, expecting me to feed him."
That's how they came to meet Birdie.
Peciulaityte has done everything she can to keep Birdie alive. She's taken to offering him meals of worms, and has even built a makeshift nest in a houseplant for him to cozy up in at night.
Still, despite Peciulaityte's sweet hospitality, there's another who seems to have won little Birdie's heart.
Amazingly, Birdie has come to form an uncanny bond with the dog - preferring to stay by his side above all others.
"They're very comfortable around each other," said Peciulaityte. "I'll pick him up, but the bird always flies back to Rusty."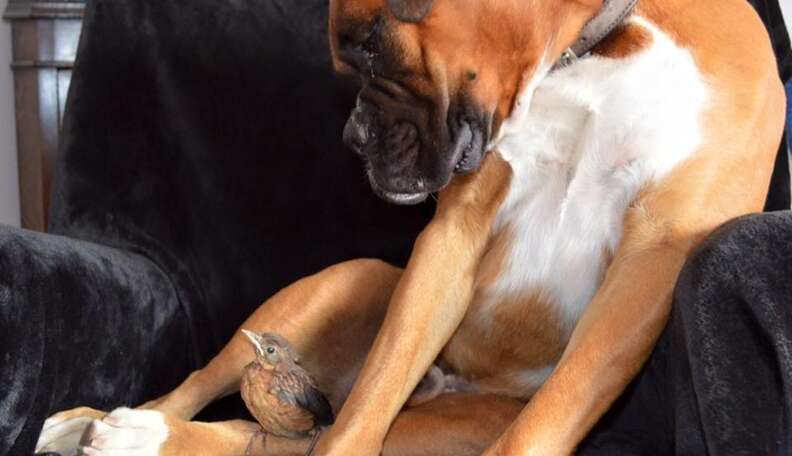 Rusty doesn't merely tolerate having the bird around, it's something he actually embraces. Despite being an otherwise rambunctious pup, Rusty understands the smaller creature isn't a plaything, but a fragile being who's looking for guidance.
'I've never in a million years expected he could be so gentle," Peciulaityte said. "Rusty has been taking very good care of him. It's somehow in his instinct to protect the bird and be his father in a way."
Just like any good father, Rusty knows how to be a bit of goofball, too - like this moment when Birdie decided to hop on his back for a ride.
Rusty and Birdie clearly have a good thing going, but with any luck it'll be just the first of many friendships the bird will form in his life. Peciulaityte has no plans of keeping him cooped up as a pet, seeing Birdie more as visitor who's gaining strength before flying off on his own.
"I hope the bird can go back to live out in the wild to do his normal thing," she said. "I won't restrict him in any way. But if he decides to stay, we'll be happy with that too."
We're happy to see that Birdie is thriving under such loving care, but, as RSPCA spokesperson Sara Howlett notes, assisting orphaned wildlife is a job best left to professionals.
"We are always really grateful when members of the public rescue any wild animals or birds in distress but we would always urge them to take that animal to an experienced wildlife rehabilitator," Howlett told The Dodo. "There are a number of reasons for this: the bird may require medication but also to make sure they are receiving the correct food and at the right intervals. It is also really important that the birds do not become too used to human contact and habituated."
To learn more about what you should do to give a helpless baby bird the best shot at a long life, click here.