Dog Abandoned Outside Shelter With Heartbreaking Note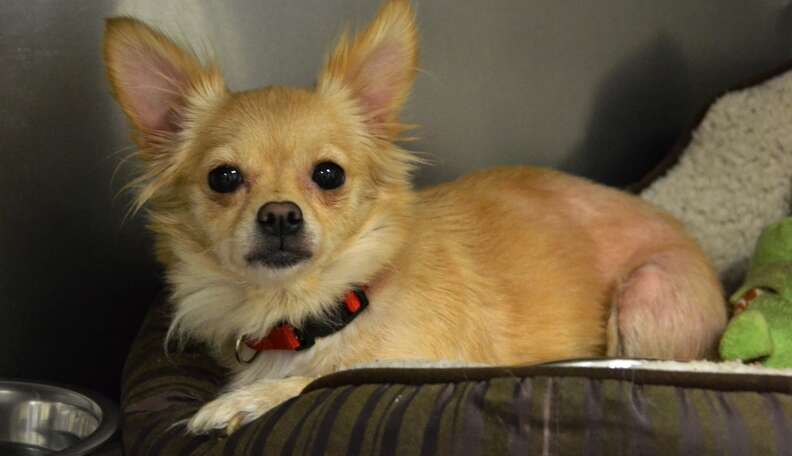 A little dog named Pinky was found in her carrier outside the Sacramento SPCA in California with all of her toys and belongings, and a note. The note stated that her family could no longer take care of her - because she had fleas.
Pinky's fleas were just too severe, the note read, and the family didn't have the money to try to get rid of them: "They loved me so much that they decided to take me to a non kill shelter to get the help I need." While the whole situation is sad, it's hard to know exactly what the circumstances were behind Pinky's surrender, and if anything could have been done to prevent it.
The shelter issued a statement on its Facebook page, saying, "This is heartbreaking for all parties involved. We wish we had an opportunity to speak with the owners to see what they had tried and if we could offer them another solution." Sarah Varanini of the Sacramento SPCA added that the family could have also provided information to help get Pinky adopted. "Unfortunately, when animals are abandoned, we miss out on gaining helpful information like age, medical history, if the animal has lived with cats, dogs, kids, etc," Varanini told The Dodo.
As for the fleas, Pinky definitely has them. "Pinky did have fleas present and she has areas of hair loss on her back and rump," Varanini told The Dodo. As for the severity of the fleas, it could have been more of an issue of getting the fleas out of the family's home rather than off of Pinky. "We treated the source of the problem, the fleas on her body, with a topical flea preventative," Varanini said. "However, if the home itself was overrun with fleas, other measures would have been needed to completely eradicate the problem."
Pinky is now at the shelter, and you can contact them about adopting her here. If you're in another area and ready to provide a pet with a forever home, visit Adopt-a-Pet.com.