Man Opens Abandoned Box — And Finds Something Heartbreaking
On his way to work one morning, a man saw a sealed fan box on the side of the road.
News 12 Texas
News 12 Texas
Al Gaeta of Collin County, Texas, spotted the abandoned box as he drove by, and stopped to put it in the bed of his pickup truck. He assumed, of course, that there was a fan inside, and he figured his office could use one. When he stopped to get gas, he decided to check out the fan inside the box - and found that it was not a fan at all.
News 12 Texas
News 12 Texas
A tiny Chihuahua, scared to death, was sitting inside the taped-up box. No one knows how long the poor dog had been trapped, just waiting for someone to save her. Gaeta called the police, and the Chihuahua was taken to the Collin County Animal Shelter.
The person responsible for abandoning the Chihuahua was tracked down via Facebook, which led to a confession, News 12 Texas reported, though no other information has been released as of yet. Police are currently in the process of obtaining a warrant.
News 12 Texas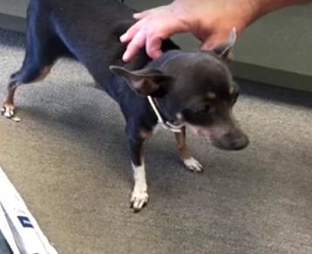 News 12 Texas
Until then, the sweet little Chihuahua is unable to be adopted as she waits at the shelter.
"To give up an animal like that and not have any regards or have any regrets. What's wrong with that man?" Gaeta told News 12 Texas.
News 12 Texas
News 12 Texas
Check out the full video coverage on the story below: