Dog Who Lost His Paws To Frostbite Gets 4 New Legs
He's the first dog in the world with four prosthetic legs.
When Naki'o was just a puppy, he and his siblings were found abandoned in a foreclosed home in Nebraska, in the middle of winter. Their mother had already passed away by the time they were found, but all the puppies were safe and healthy when rescued - except for little Naki'o, who was found frozen into a puddle.
Naki'o suffered severe frostbite from the ordeal, and had to have all four of his paws (and varying parts of each leg) amputated. He also lost half his tail, half his nose and a small part of his right ear, his mom, Christie Pace, told The Dodo. Eventually, Naki'o would become the first dog to receive four prosthetic legs.
Naki'o and his siblings were taken in by A Puppy's Voice rescue in Fort Collins, Colorado. They all initially suffered from malnutrition and mange, but each eventually found a loving home, even special little Naki'o.
Pace had worked as a vet tech for nine years, so when she started looking for a puppy of her own to adopt, she was familiar with dogs who needed a little extra attention and care. She wasn't planning on adopting a special needs pup, but as soon as she saw Naki'o on PetFinder, she knew it was meant to be.
"I wasn't sure what type of dog I was looking for at the time, but then I came across Naki'o [named Stubby at the rescue] and I read his story and saw his picture and instantly fell in love," Pace told The Dodo. "I wasn't searching for a dog with a disability, but I've always had such a huge heart for these animals."
Pace made an appointment to meet little Naki'o, and after seeing what an amazing and loving puppy he was, ended up taking him home that very day.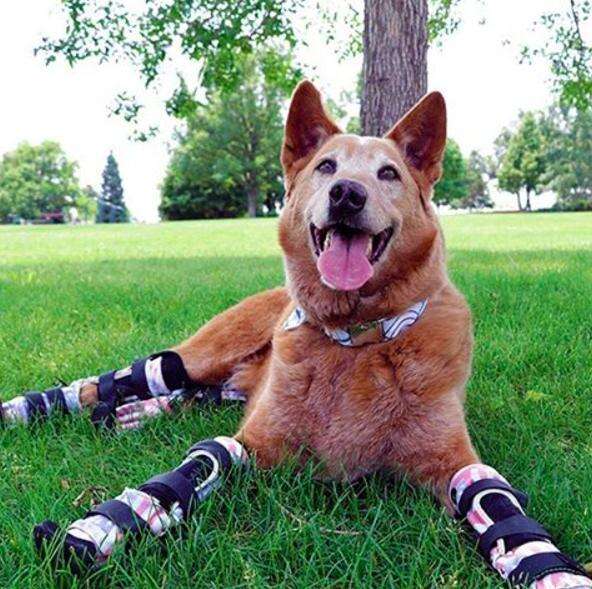 "He came into the exam room and was the happiest little guy you could meet," Pace said. "You didn't even recognize his disability at first because he was so happy and was kissing me. It was love."
When Naki'o first joined his new family, his parents weren't sure exactly what he would need as he got older. Since he weighed only 4 pounds when he was adopted, he was able to move himself around fairly easily. As he got bigger, though, he had a harder time dragging himself around, so it became clear that he was going to need extra assistance.
"I knew he needed help, and then fate stepped in," Pace said. "I had a client at the clinic that had an OrthoPets knee brace. I'd never seen that before or knew it existed at the time! I looked into OrthoPets in Denver, and saw that they made prosthetics, so I made an appointment for him."
With the help of her generous clients, Pace was able to raise enough money to purchase at least one prosthetic for Naki'o. When she learned he would definitely need a total of four prosthetics to have the best quality of life, she was worried at first about the cost - until OrthoPets decided to donate the remaining three legs.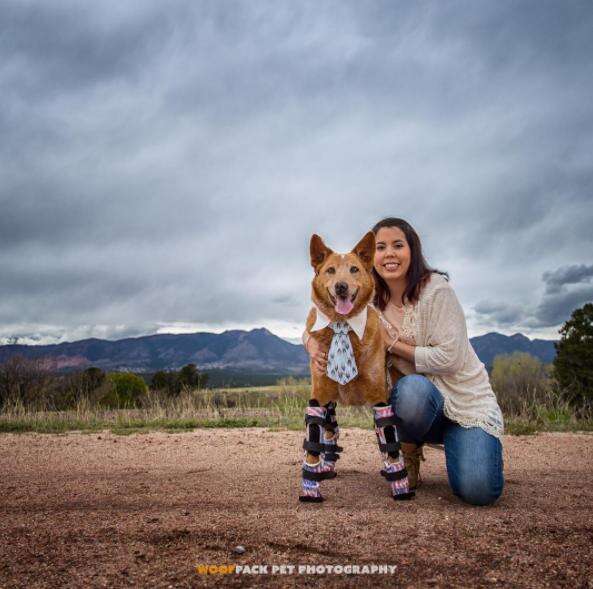 Naki'o started receiving his prosthetic legs over the course of a few months. When he finally had all four prosthetic legs, he was immediately overjoyed with all of the things he could suddenly do.
"He looked like a baby deer getting up to walk for the first time," Pace said. "Then he realized he could go anywhere he wanted! So he had his first walk down the street. He even broke the hinges off his front prosthetics because he ran so fast and took a sharp turn."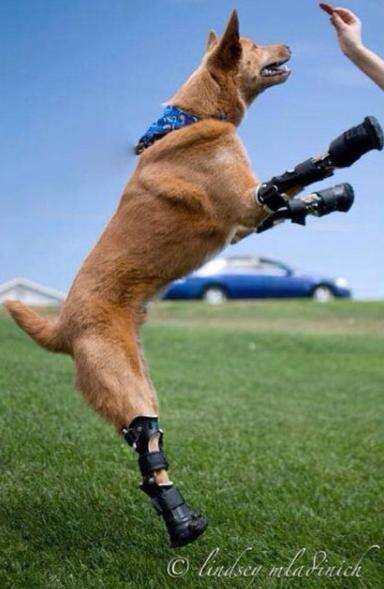 Over the years, Naki'o's prosthetics were tweaked to better fit his needs, and he now has his final set that should carry him through the rest of his life.
Naki'o is the first dog in the world to receive four prosthetic legs, and they have truly helped him become his best self.
"He is the happiest dog you will ever meet," Pace said. "He doesn't allow his disability to define him; if he wants something he will find a way! He is always smiling and always so comforting to me and others."
Inspired by Naki'o, in 2011 Pace started a rescue called Nakio's Underdog Rescue, which specializes in helping animals with special needs.
"I started it up in Nakio's honor because I knew there was so many animals with disabilities out there and many of them don't get rescued and adopted," Pace said. "I knew I couldn't adopt them all so I thought a rescue specifically for varying disabilities would be the best option at the time. We are a very small rescue since each animal needs a lot of resources but we do what we can to help."
Even though she can't adopt them all, Pace has managed to save many special needs rescue pups. Aside from Naki'o, she also has three dogs who are blind , and a dog with two and a half legs who uses a wheelchair.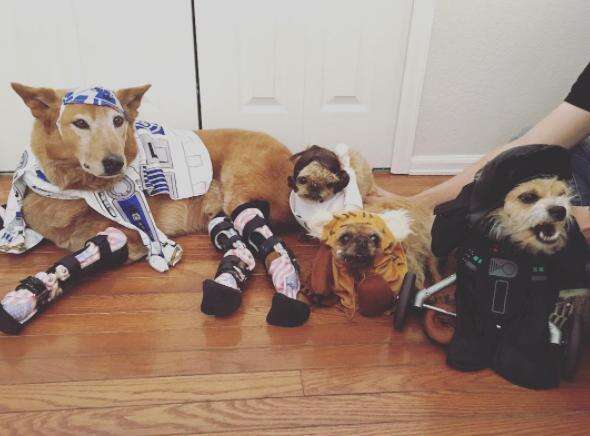 Little Naki'o had an incredibly rough start to life, but luckily he found a mom who understands that all dogs deserve a chance, and has been able to live his best life because of her.
"I love how disabled animals are so loving, so full of life and have such gentle souls," Pace said. "They truly deserve a quality of life because a disability doesn't mean life is over, they have so much more in them!"