Rescued Greyhounds Welcome Tiny New Sister Into Their Home
When Debby and Chris Stephens brought their first baby, Dayna, home from the hospital in mid-February, they knew the other members of their family would be waiting to meet her.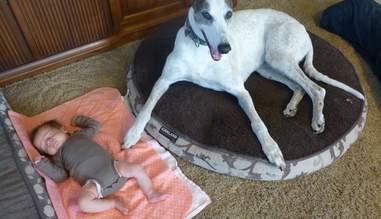 Dayna (left) with Cruzer.

| Debby Stephens
And Cruzer and Fender, two greyhounds rescued through the Greyhound Adoption Center (GAC) in California, were more than ready.
"I brought a blanket she'd been sleeping in home from the hospital the day before so they got a sense of someone new coming into the house," Chris Stephens told The Dodo.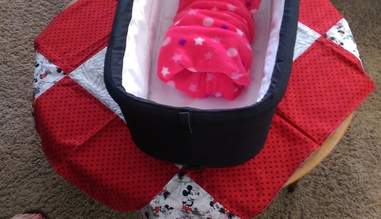 Cruzer meeting Dayna.

| Chris Stephens
Cruzer was the couple's first dog, adopted when they first got married five years ago. "It was one of those things, when you first get married, where you adopt a dog to see how you handle the responsibility," Stephens said.
They handled it quite well, it seems, since not so long after that they adopted Fender, also from the GAC, which has been saving greyhounds since 1984.
Cruzer babysitting two-day-old Dayna.

| Chris Stephens
"We really love the Greyhound Adoption Center," Stephens said. "These dogs are really wonderful in any environment we put them in."
One big happy family.

| Debby Stephens
Sadly, greyhound racing is not fun and games for these loving dogs who are confined for about 20 hours a day and are often left homeless when they leave the spotlight.
While greyhound racing is in decline in the U.S., there will still be a deluge of surplus track dogs for the next two decades and probably longer, according to the GAC. While the GAC has already rescued nearly 6,000 dogs, they know thousands more are in need.
Debby Stephens
Seeing as how Cruzer and Fender are such important members of the Stephens family, it's hard to imagine any dog denied this kind of life.
"Our hope is to be able to continue our work of saving greyhounds until the last racetrack closes forever," the GAC writes.
Until that last racetrack closes, the Greyhound Adoption Center will need your help. You can make a donation here: