The Best Window Bird Feeders For Indoor Birdwatching
Who needs Netflix when you have a bird feeder?
If you, like many others, have become a fan of birdwatching over the past few years, then you're probably on the lookout for feeder styles that let you get up close and personal with the birds in your yard. A window bird feeder is the perfect way to see birds up close without scaring them away — your window basically becomes bird TV!
According to The Humane Society of the United States, as long as you're not bringing harm to wild animals by feeding them, then it's fine to attract them to your yard with food. Make sure your bird feeders are safe and high enough to be away from predators (like on your window!), and maybe invest in some window clings to prevent birds from flying into your windows when approaching for seed, though it's unlikely birds will collide with windows when feeders adhere directly to the glass panes.
Check out these window decals from Amazon for $8.
When looking for a window bird feeder, you should make sure that it's made with transparent acrylic or glass for bird watching; has multiple strong suction cups to ensure it stays put; and is squirrel-proof and weatherproof, meaning it has a roof and drainage in the seed well, so that the bird food remains dry.
What to look for in a window bird feeder
Before you go out and buy any old window bird feeder, there are a few shopping considerations to keep in mind that may help you make a more informed purchase.
Luckily, all of these window bird feeders are squirrel-proof, which is usually a must-have feature for standard birdfeeders. Just make sure you install the feeder at the right height on your window so that squirrels can't climb up to it from the ground or gain access by dangling from the roof.
And these feeders can be paired with outdoor cameras, too, so you can watch the birds no matter where you are.
Check out this Blink wire-free outdoor camera with night vision at Home Depot for $90.
Glass vs. plastic
All window bird feeders should be transparent so that you can enjoy birdwatching from the inside, but you need to decide whether you want glass or plastic.
Glass is a higher-quality material than plastic, but you run the risk of having it shatter if it ever falls from the window. Plastic may not last as long when left out in the elements compared to glass, but you do have some peace of mind if it ever suffers a fall. Plastic is also lighter weight, so the suction cups don't have to work so hard to keep a plastic feeder in place compared to a glass one.
How many suction cups does the feeder have?
The more suction cups, the better! There should be an appropriate number of suction cups relative to the size of the feeder. Larger feeders should have four or five suction cups, whereas smaller feeders should have two or three. This factor is especially important if you're looking for a large-capacity feeder — all that seed adds up in weight.
Choose one that can hold enough seed
Speaking of capacity, it's important to consider how often you want to refill the feeder and how many birds you're looking to attract. Larger capacity feeders can hold more seeds, allowing you to go a few days without a refill. And you'll also be able to feed more birds in one fill-up.
But smaller capacity feeders could be great for new birdwatchers or for smaller windows — it all depends on your space and situation.
Choose one that is weatherproof
A weatherproof window bird feeder is one with a roof and drainage holes in the seed wells. Both of these features are important to keep both the birds and their food dry so that they keep coming back. It's a bonus that the feeder is made with weather-resistant materials, like sun and frostproof acrylic plastic or glass, too, because that means you can keep it out all year round — otherwise, your feeder may crack, yellow or rust over time.
Find one that fits your price range
Finally, choose a feeder that's budget-friendly. If you're willing to invest in a high-quality feeder, then definitely do so. But there are a bunch of low-priced feeders that get the job done and do it well, too.
The best window bird feeders
Here are a few of our picks for the best window bird feeders.
With over 16,000 five-star reviews, the Nature's Hangout window bird feeder is the overall best one we could find. It's under $30 and features both a roof and seed well drainage holes as well as three strong suction cups that will keep this feeder in place (and comes with three extra suction cups in case you need to replace one). The tray can hold up to 4 cups of birdseed, so you won't have to worry about refilling every hour of the day.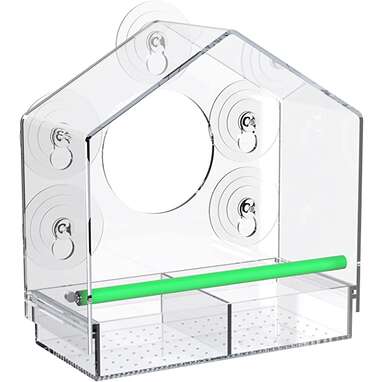 The FRKNER window bird feeder features five heavy-duty suction cups that ensure this thing isn't going anywhere once it's hung up. Plus, it comes with two spare suction cups for those just-in-case emergencies. It features a roof and drainage holes, and the seed tray secures via magnets, so if there's too much weight on the feeder, the tray will fall rather than the entire setup. But this feeder promises it can take on 50 pounds of weight if need be!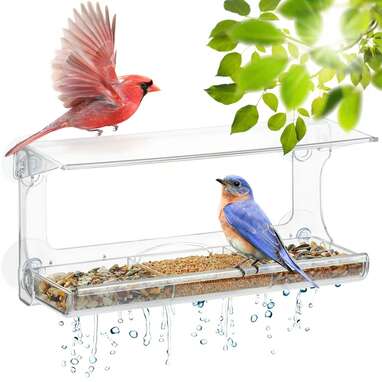 Made with sunproof and frostproof heavy-duty acrylic, the D.F. Omer weatherproof window bird feeder is great for all-season birdwatching. The plastic exterior won't crack, yellow or bend, no matter how inclement the weather and the drainage holes in the seed well will help food stay dry after a rainstorm. And it can hold up to 4 cups of seed.
If you're looking for a feeder that basically refills itself, the Roamwild Beautiful Arch window feeder is perfect for you. This container can hold up to 4 pounds of birdseed, meaning you can sit back, relax and watch the birds feast for days. When it is time to refill, though, all you have to do is flip the roof up and replace the seed. The seed tray is removable for easy cleaning.
Glass is another great weatherproof material that will keep your birdseed dry through all four seasons. This beautiful glass bird feeder from Uncommon Objects features brass edging and modern lines and sticks right to your window with three suction cups. It also comes with a wire hanger so you can switch up its location if and when you want. And because it's glass, this feeder will withstand the elements so long as it's securely mounted. Plus, this bird feeder is definitely the most decorative on the list.
For just $13, you can pick up the More Birds Observer window bird feeder that has a 2-cup capacity. It secures to your window with three strong suction cups and even has a pitched roof to keep rain away from the seeds. And the 7-inch dish allows multiple birds to feed at once.
Your cat can get in on the fun of birdwatching, too! The Wind & Weather window feeder has a one-way mirror that lets your cat see the birds without the birds seeing her. The feeder itself has two storage columns that can store up to a pound of seed, and the lid keeps the stored seed safe and dry from wind and rain. Your cat will be endlessly entertained, and the birds won't know a thing!
Window hummingbird feeders are available, as well. This pair of hummingbird feeders from SEWANTA are actually handheld feeders that hold an ounce of liquid each, but they come with a super-strong suction cup base that secures tightly to a window. The liquid wells are made from shatterproof glass that can be easily cleaned, and the red tops attract the hummers to your feeder.
Who needs a Netflix subscription if you have bird TV? Installing one (or several!) of these window bird feeders will keep everyone in the house entertained, and you'll end up learning a lot about and caring for the birds who hang out in your backyard.

We independently pick all the products we recommend because we love them and think you will too. If you buy a product from a link on our site, we may earn a commission.